The Seville Cathedral (formally the Catedral de Santa María de la Sede) was constructed on the site of a former mosque beginning in 1401. It took roughly 100 years to build and is considered the largest Cathedral in the world (but not the largest church — it's complicated).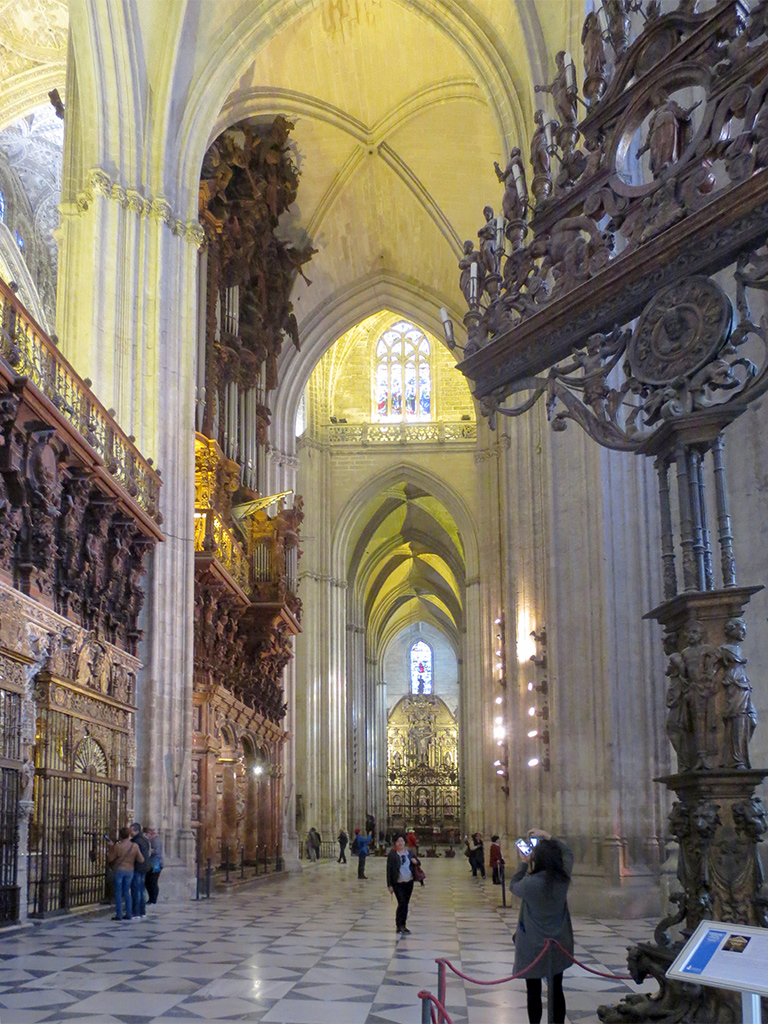 From the outside, the Cathedral has the feeling of a fortress, with solid stone walls rising on all sides. It is intimidating rather than welcoming despite the ornamentation that hints at what is inside.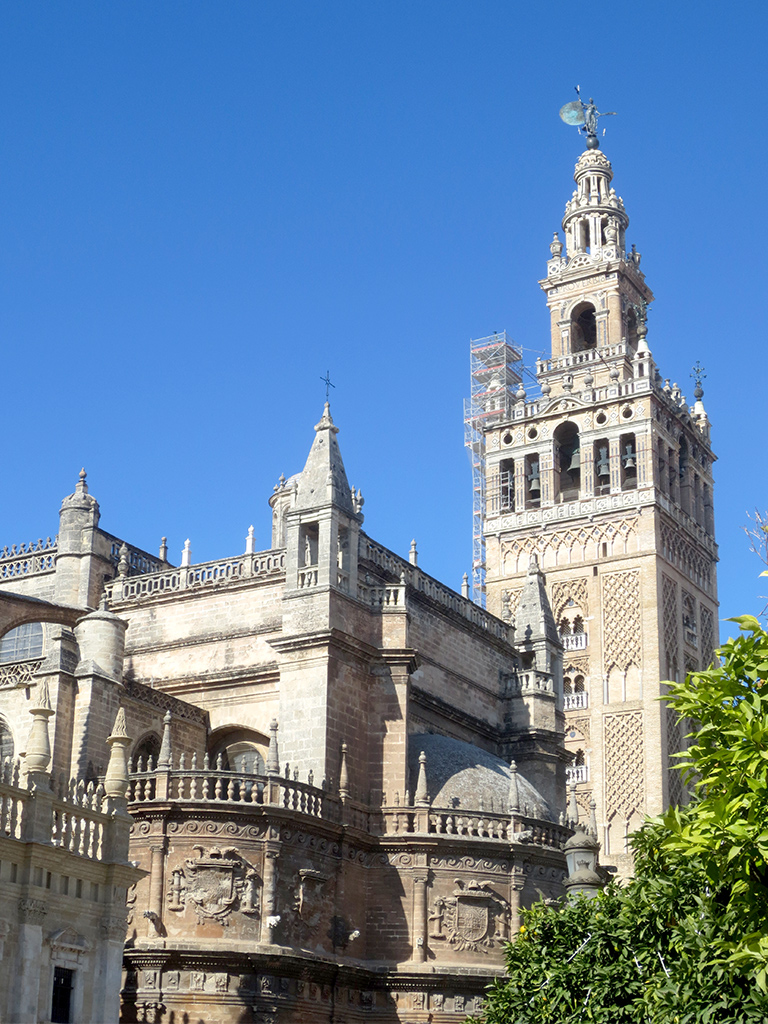 Waiting in line near the entrance, we could see the contrasts on the Cathedral wall between newly restored parts (in white) and the older, yellowish stone. A full-scale replica of the sculpture that tops the Giralda tower is also located there.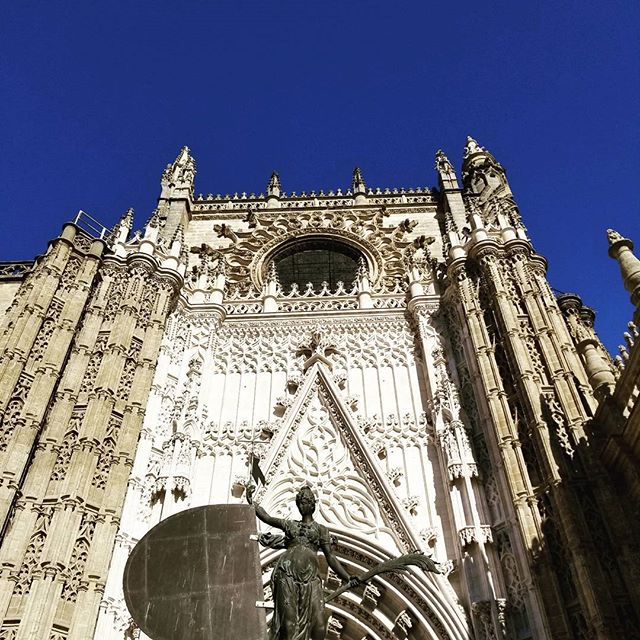 Once inside, the size of the Cathedral is immediately evident, with ceilings and arches soaring far overhead. Every surface is filled with gold leaf, paintings, wood and stone carvings, and other decoration that quickly become overwhelming. Seas of visitors meander to and fro, including large organized tours. Selfie sticks are a constant menace to all.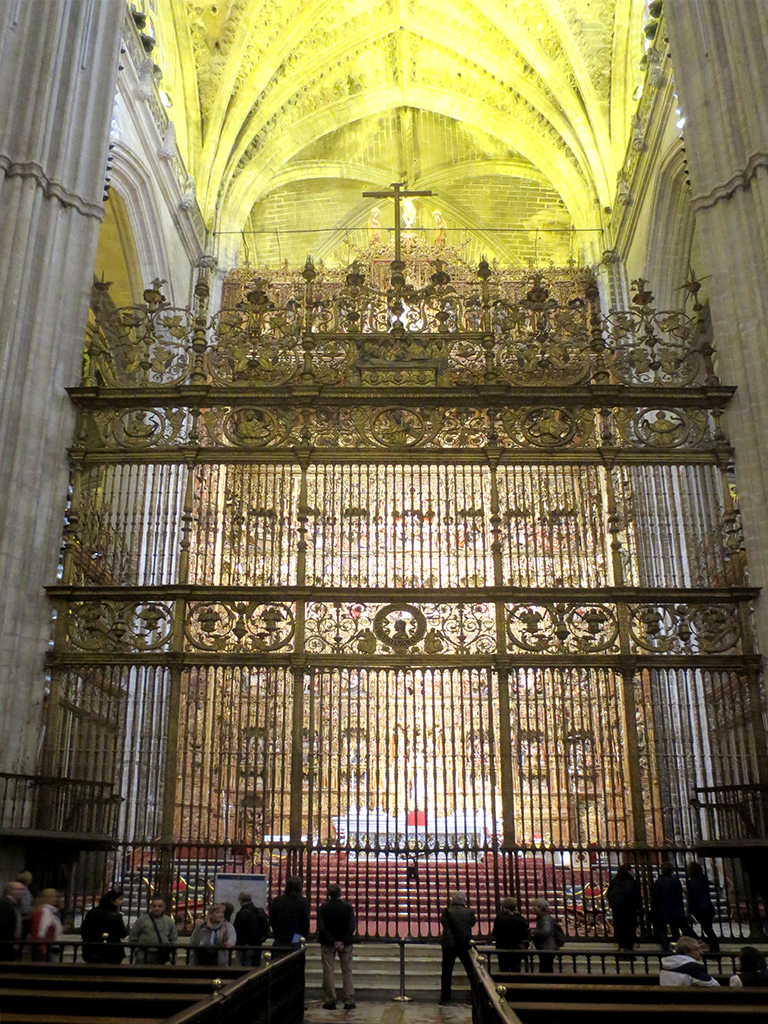 Around the main area are many smaller rooms and chapels, each with their own purposes and names. Today they exhibit the wealth of the church in the form of artworks, chalices, relics, and other smaller artefacts.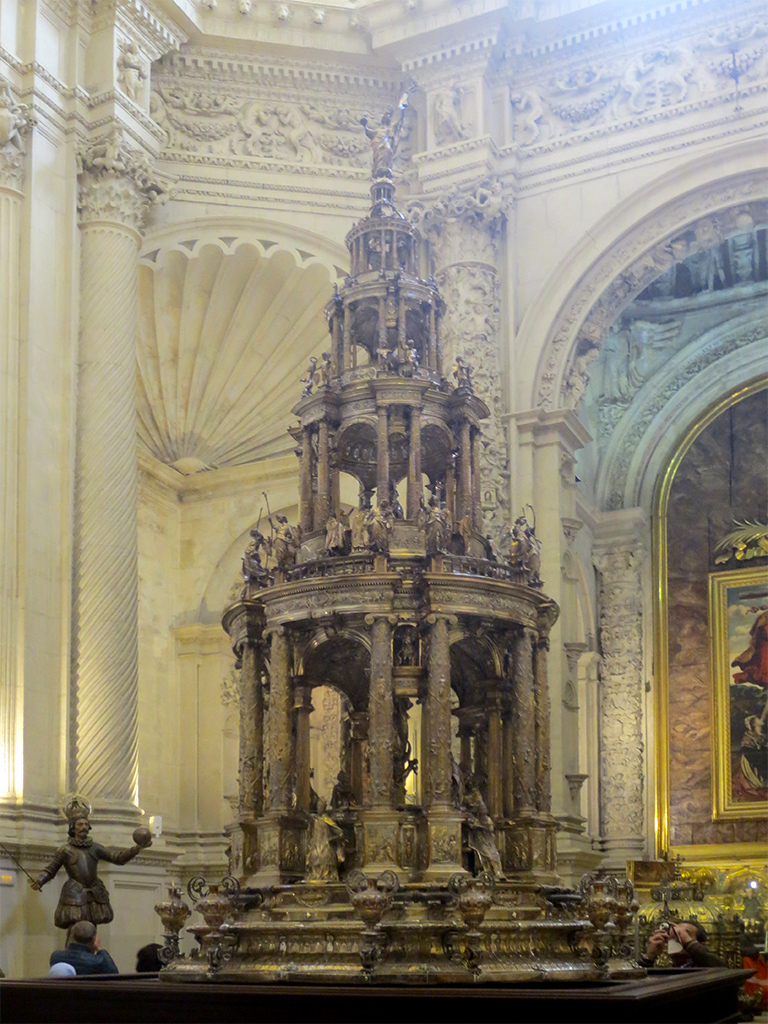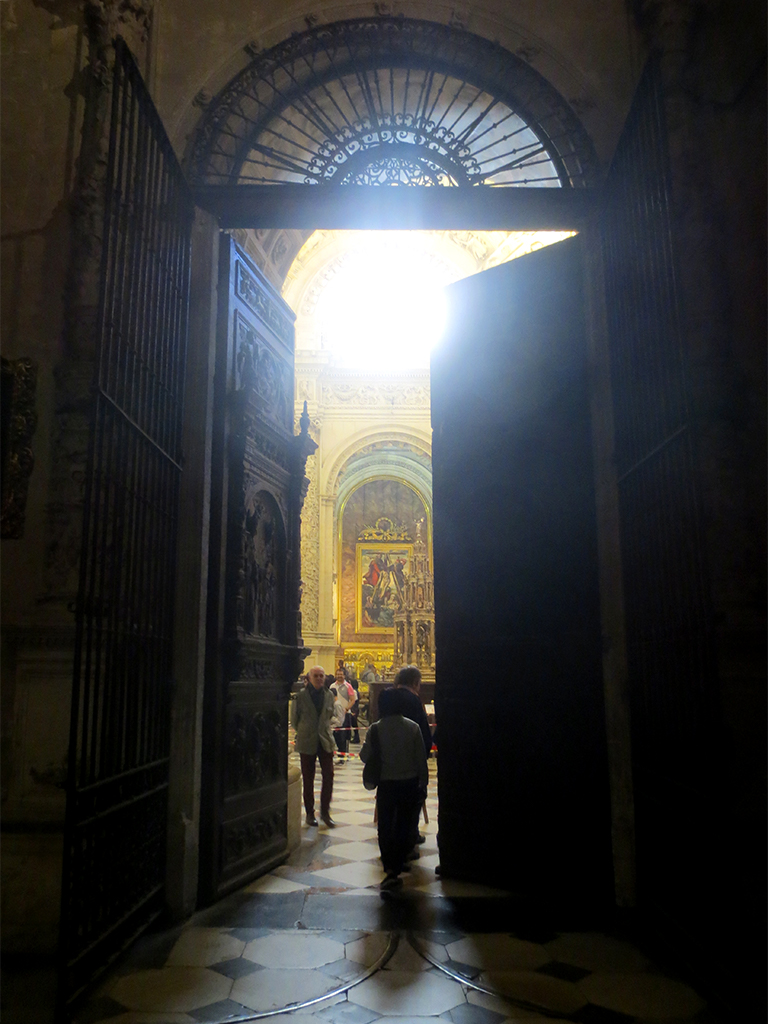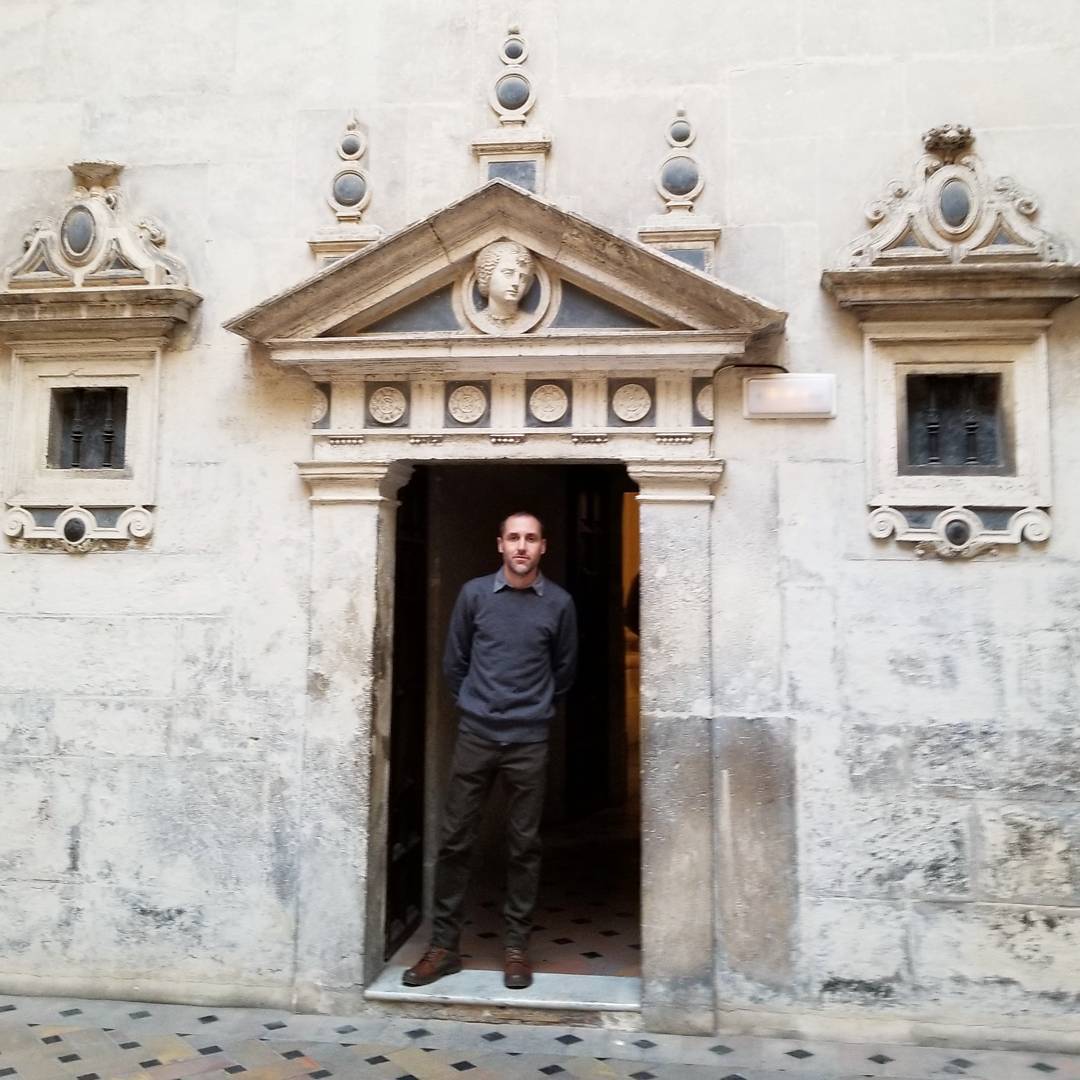 A highlight for both of us was the tomb of Cristóbal Colón (Christopher Columbus), which takes the form of a box carried by four men.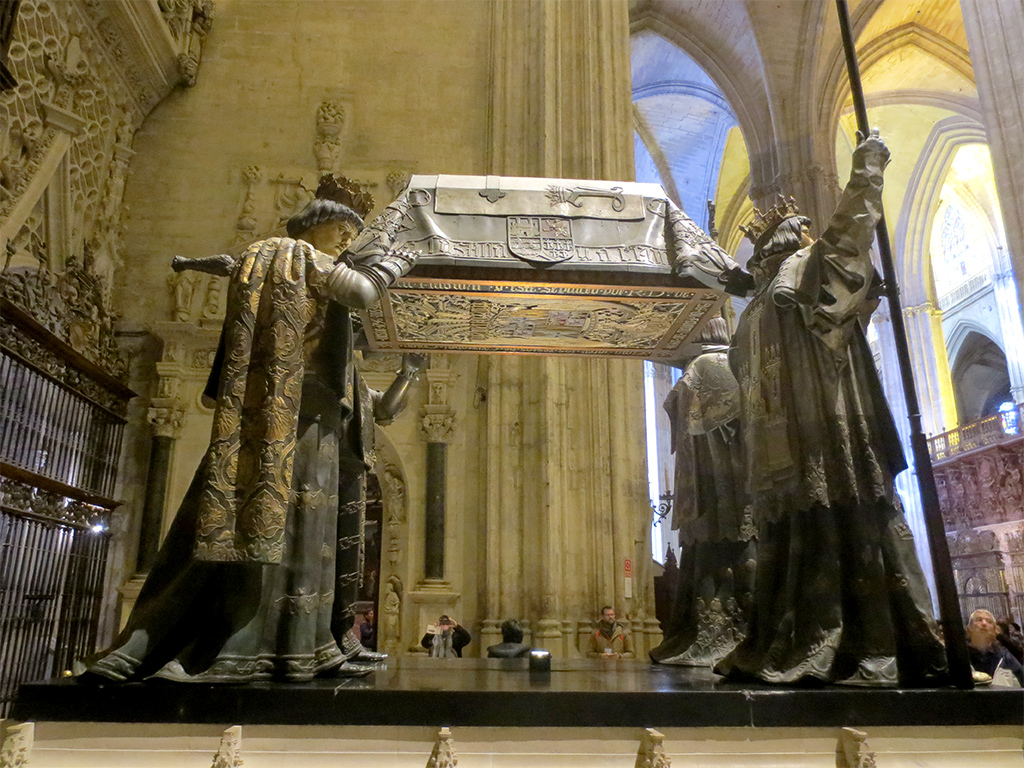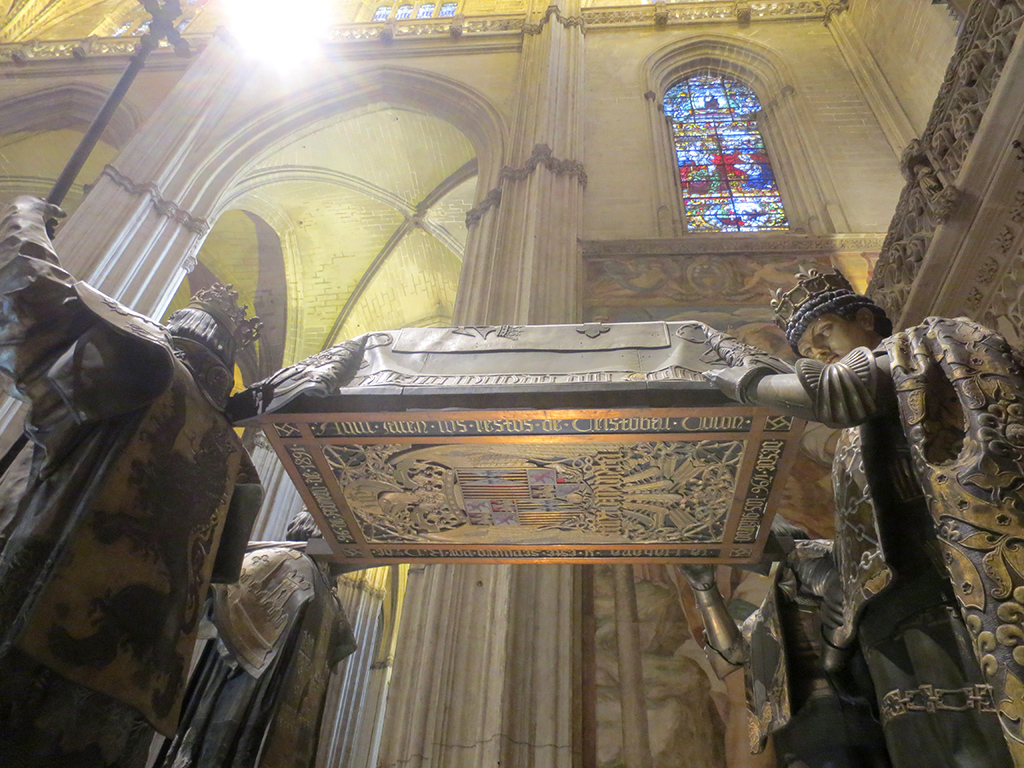 The box contains what are, by most accounts, the bones of Columbus, although there is much bickering and uncertainty because they were originally kept in the Dominican Republic and then other parts of Spain before making their way to Seville. DNA tests in 2006 seemingly confirmed Columbus is in Seville, but some dismiss the science as fake news.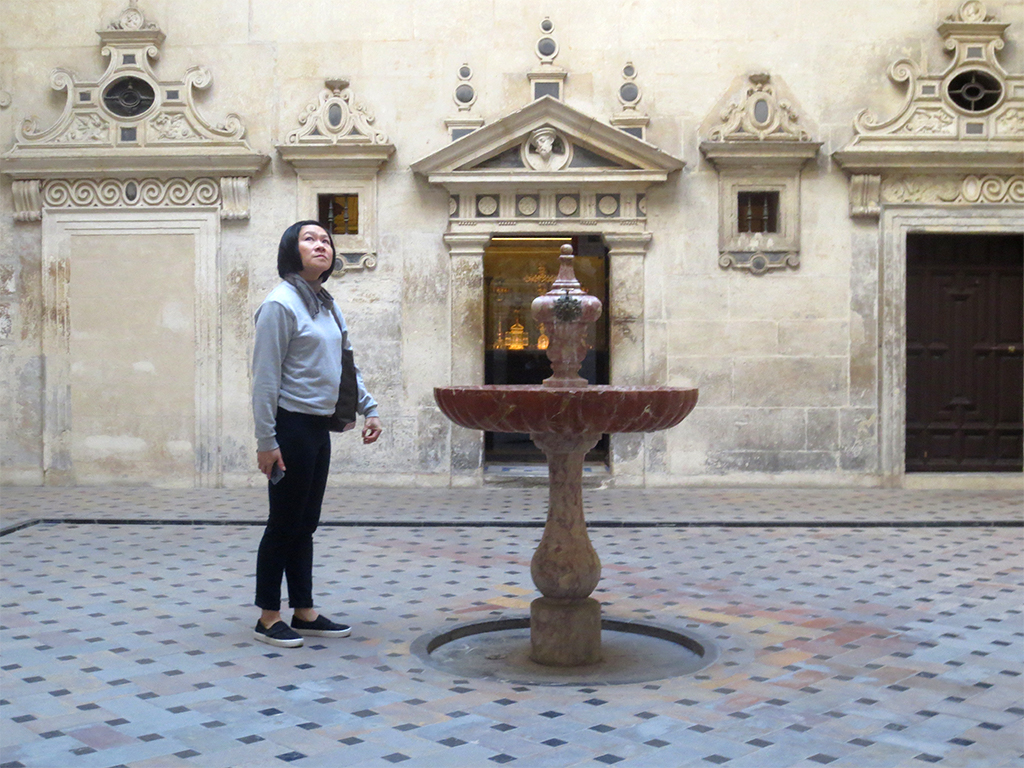 We explored about a third of the ground floor before deciding to climb the Giralda, the large tower that has dominated the Seville skyline for centuries. Access is not by stairs but rather by a long and winding ramp.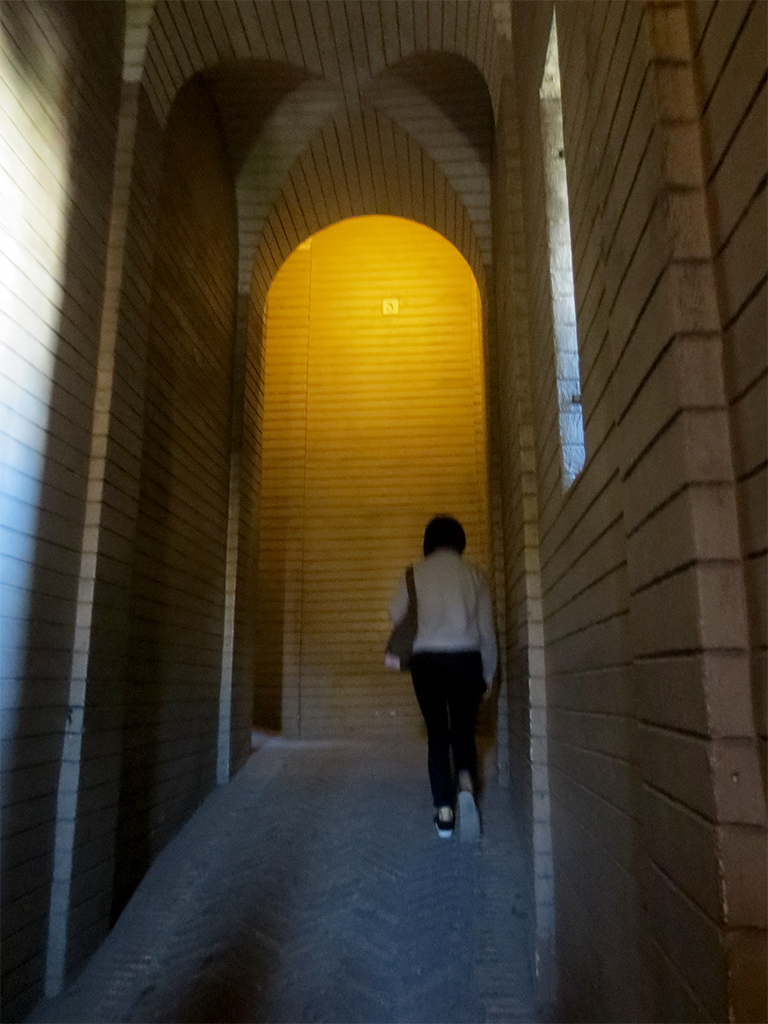 Once at the top, we were rewarded with great views of Seville.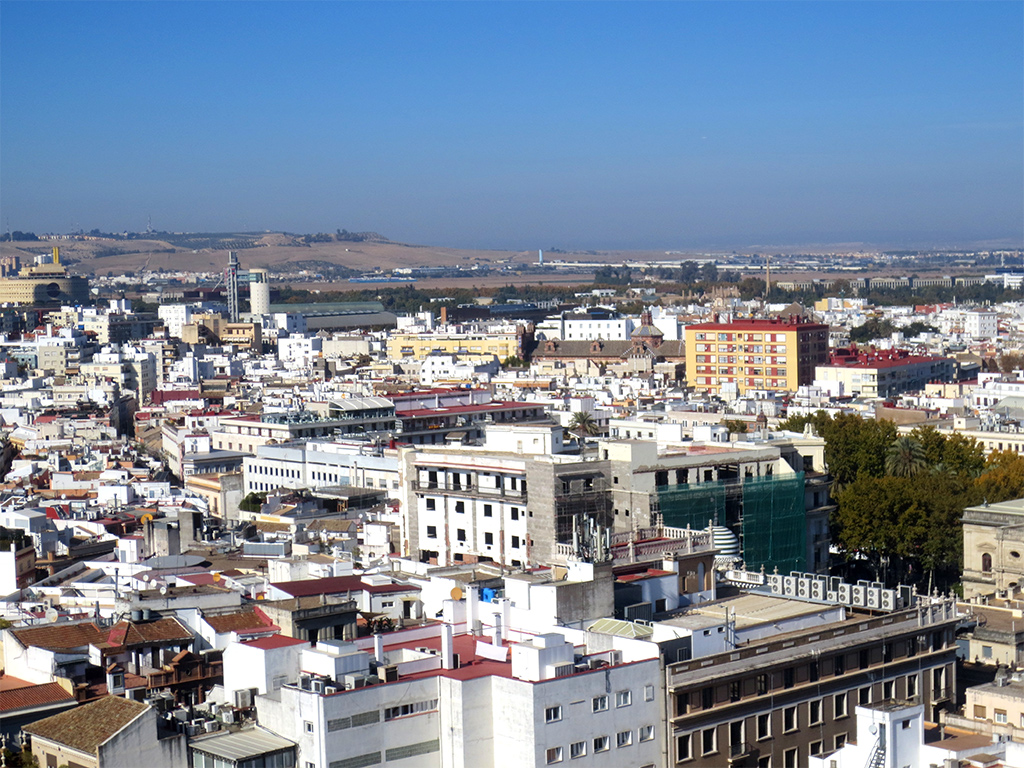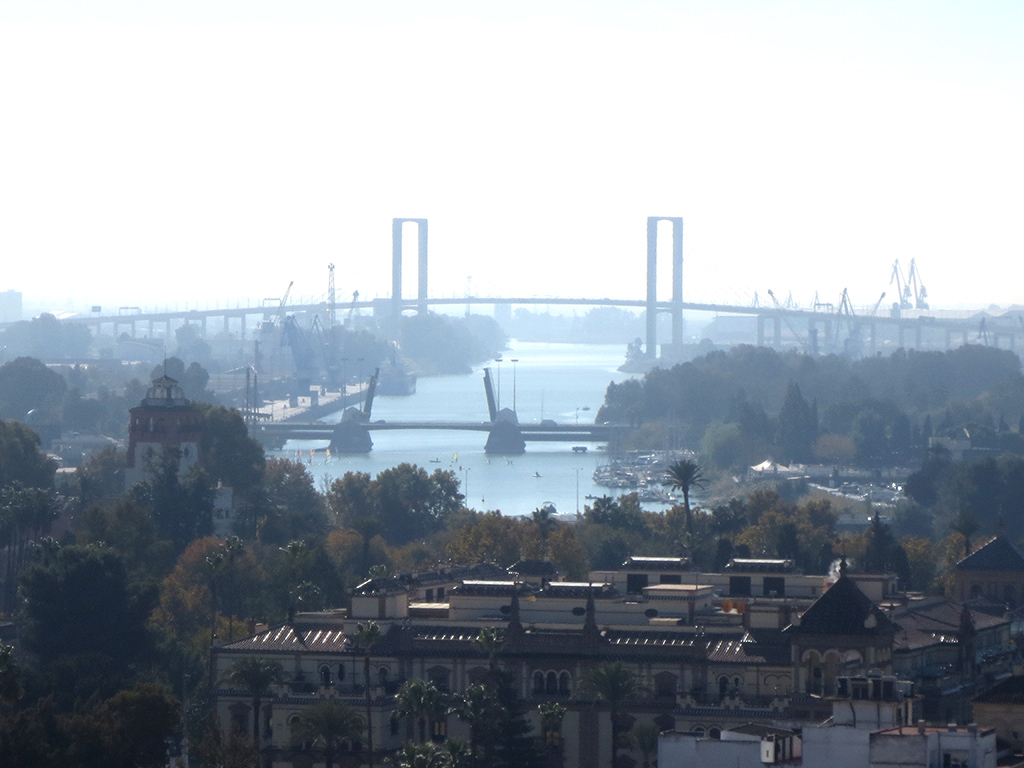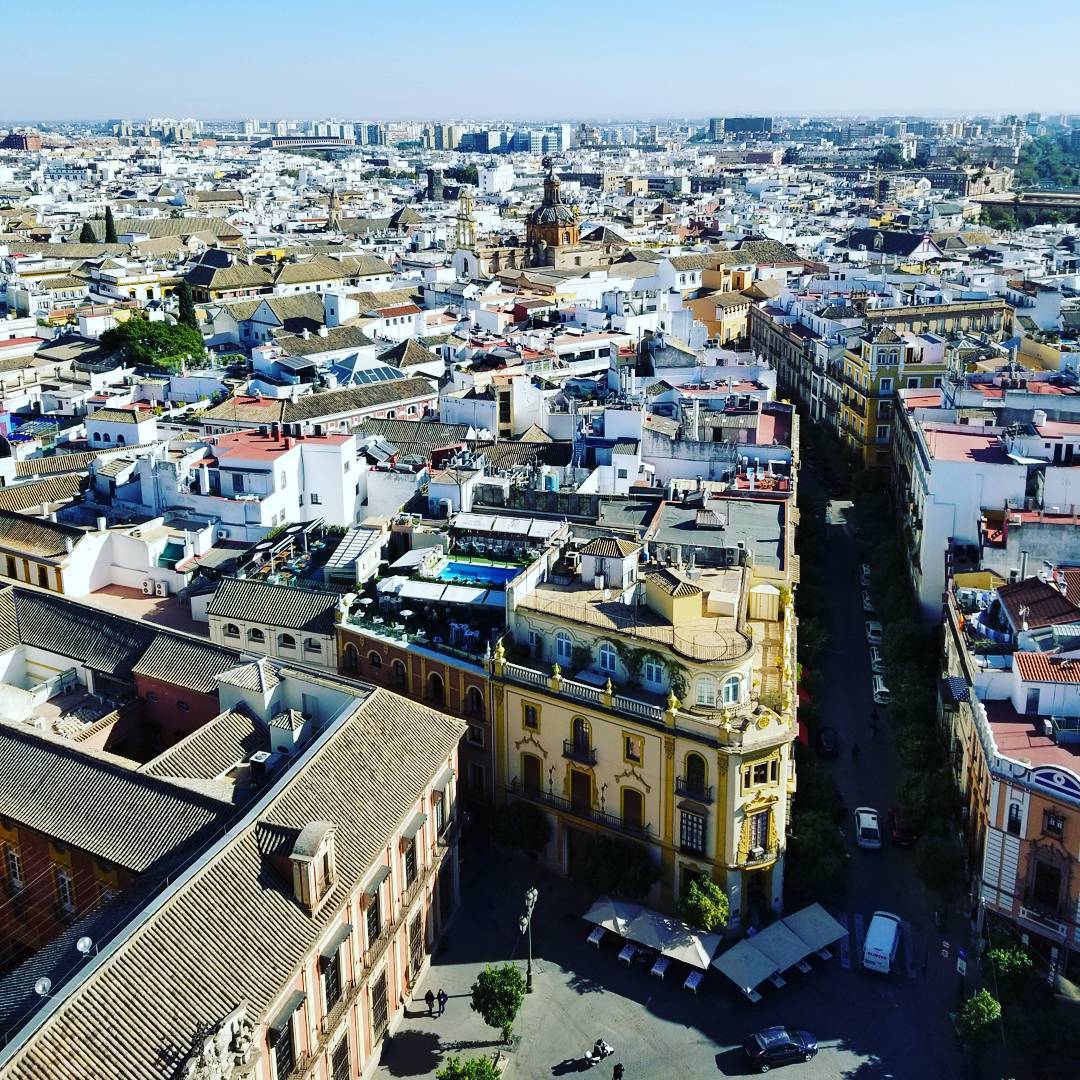 The huge bells in the Giralda dangled only a few feet over our heads, and I was thankful they did not ring while we were up there.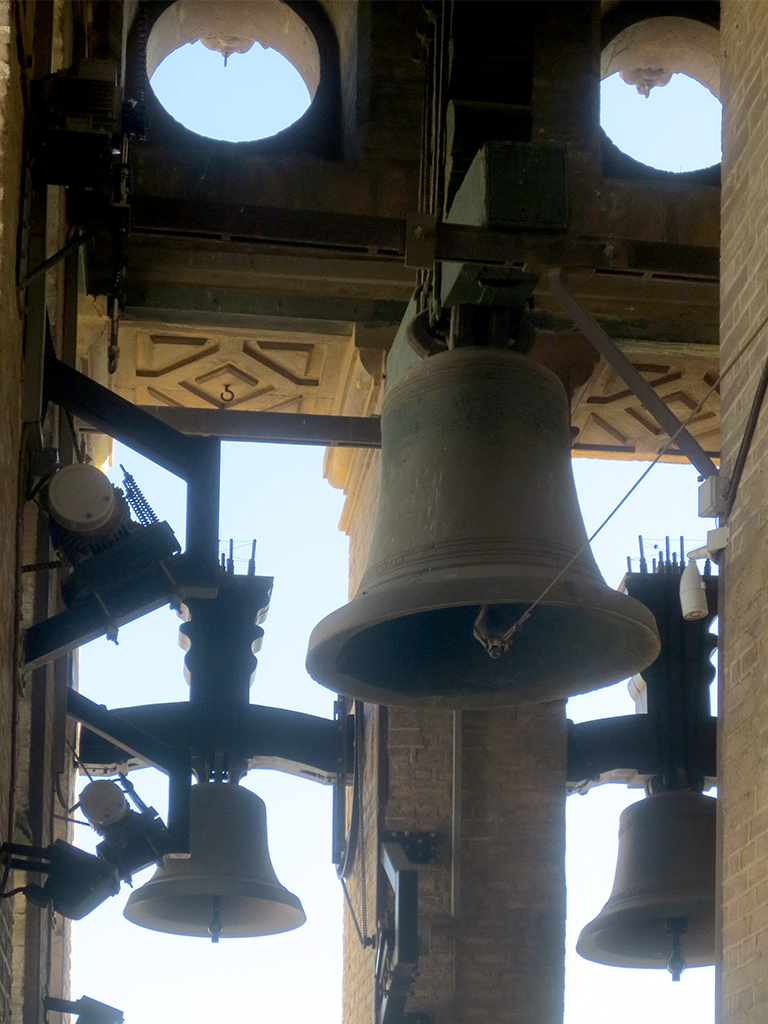 Once back down on ground level, we passed through the Door of the Lizard where there hangs a replica of a crocodile supposedly gifted to the King of Spain by the Sultan of Egypt in the 1200's.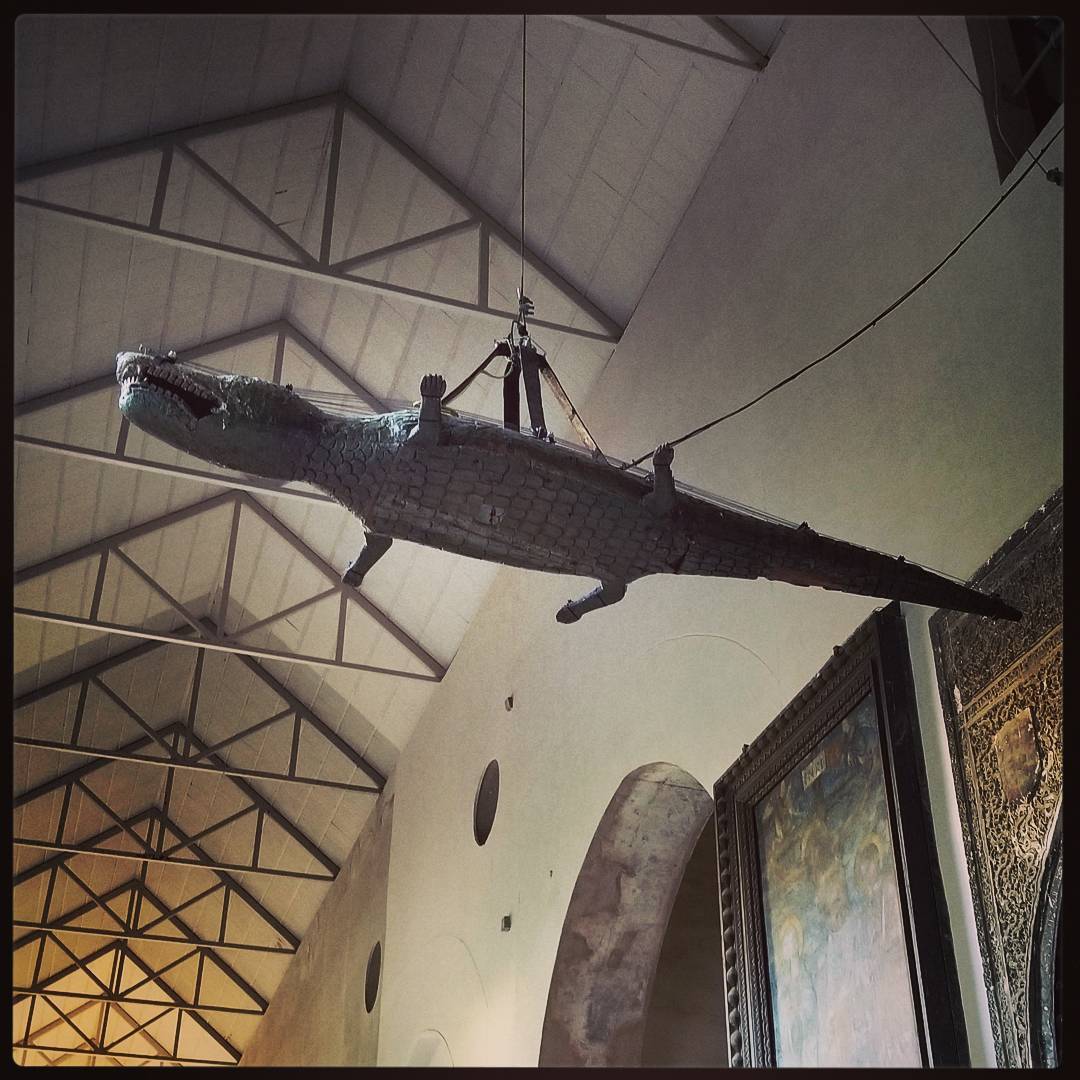 After an hour or two in the gaudy, dark and frankly often depressing interior, it was nice to emerge into the sunshine of Seville where there was a large market in progress at the base of the Cathedral walls.