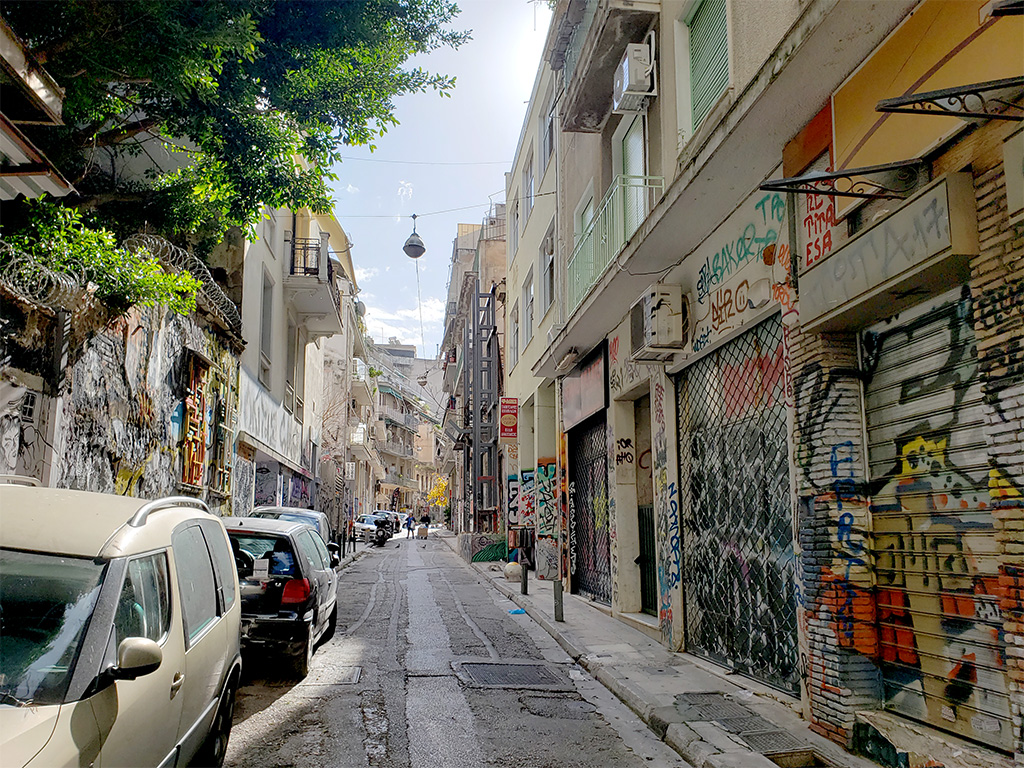 Depending on who you listen to Exarchia is either Athen's cool counterculture student neighbourhood ⁠— or a dangerous hotbed of anarchists and illegal squats. When we visited on a weekday morning we found quiet streets filled with cafes, interesting shops, and just a bit more graffiti than other parts of the city (which to be honest is a lot of graffiti by normal standards).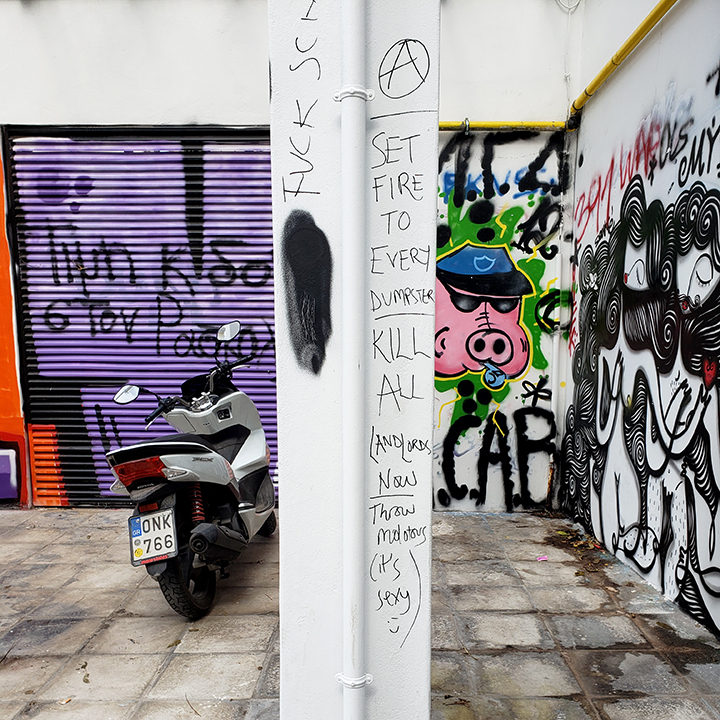 Exarchia is adjacent to two universities and has been associated with anarchist and leftist politics since the 1960s. In 2008 a 15-year-old boy was killed by police during a protest, fueling more protests and riots, particularly on each anniversary of his death. The police generally will not enter Exarchia unless it is for a specific planned operation ⁠— mostly to prevent situations that look like this…
At the heart of the neighbourhood is Exarchion Square, and though many nice cafes, bars, and bookshops surround it, the square itself is not somewhere random visitors would feel comfortable. Drug dealers have predictably taken advantage of the absence of police, though by day the area feels safe. Nobody bothered us ⁠— something I wish we could say in our neighbourhood back home in Toronto many days.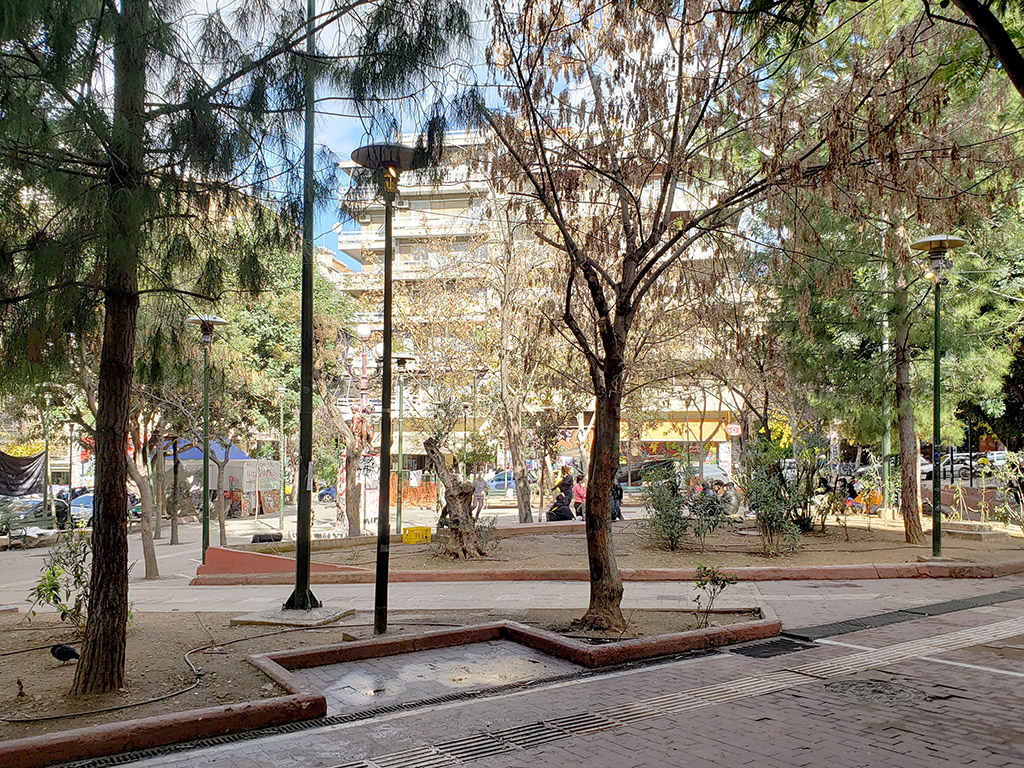 On the edge of the square are some protest banners.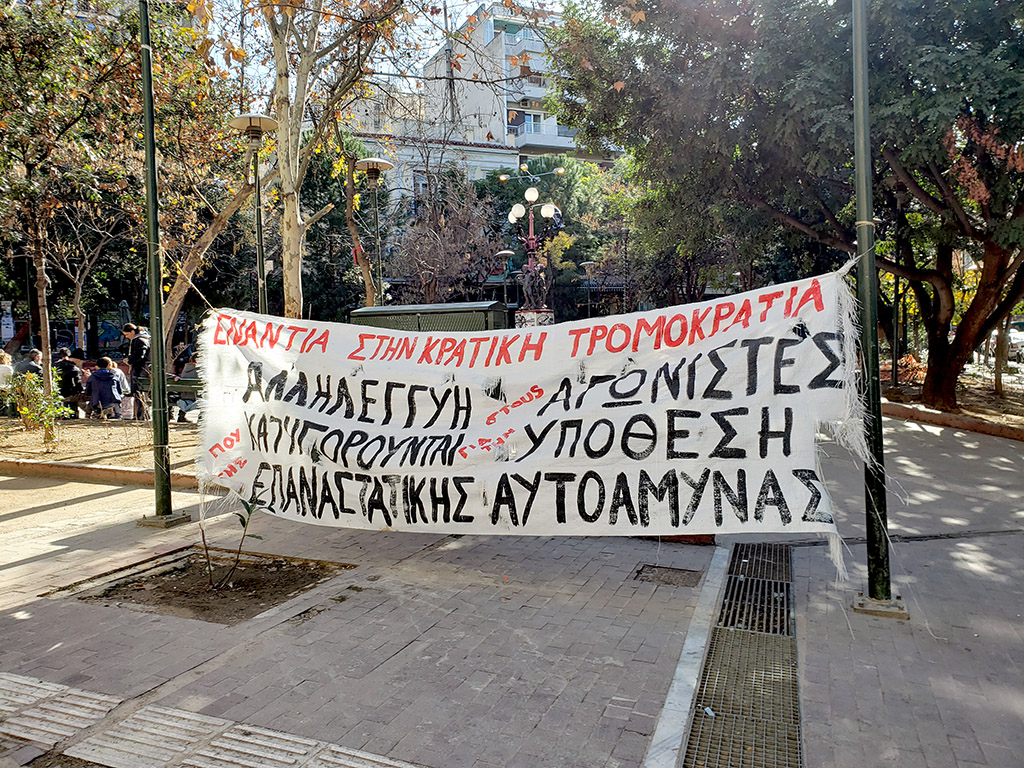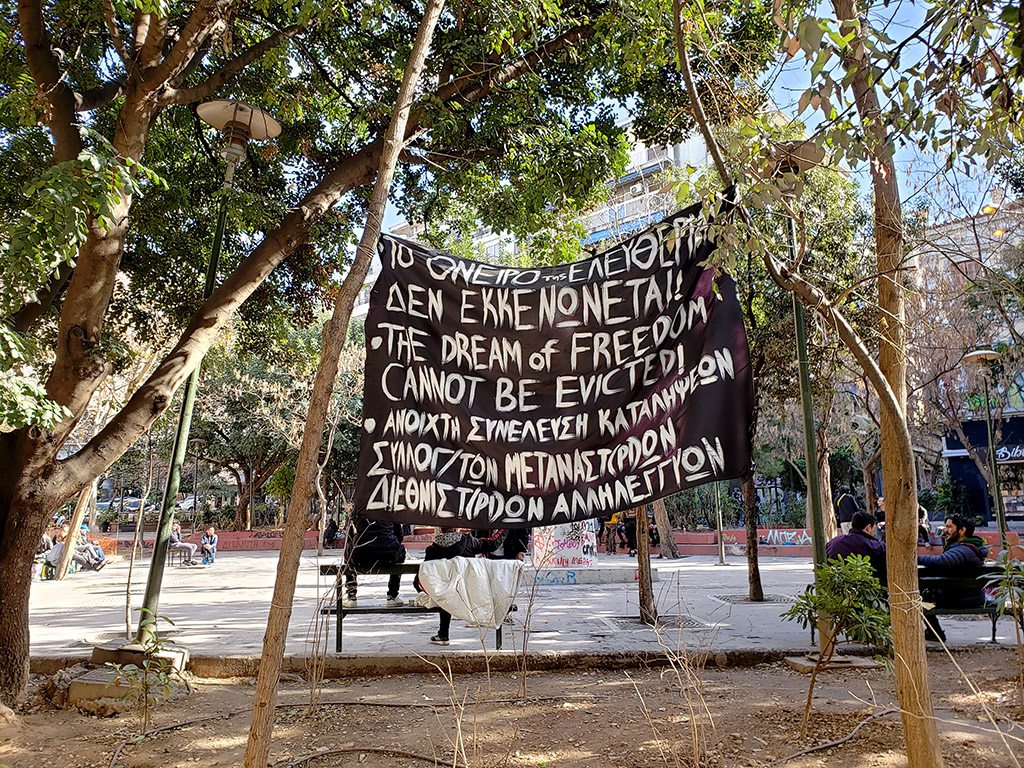 "The dream of freedom cannot be evicted!" is a reference to a number of squats in the neighbourhood. Squats have existed in Exarchia for decades, but beginning in 2015 anarchist groups began repurposing empty buildings to house some of the Syrian and Iraqi refugees arriving in Greece through Turkey. These squats were well-organized and were mostly ignored by the previous Greek government. But the new government elected in 2019 began forcibly evicting occupants from the squats in systematic raids that resulted in violence, mass arrests, and deportations.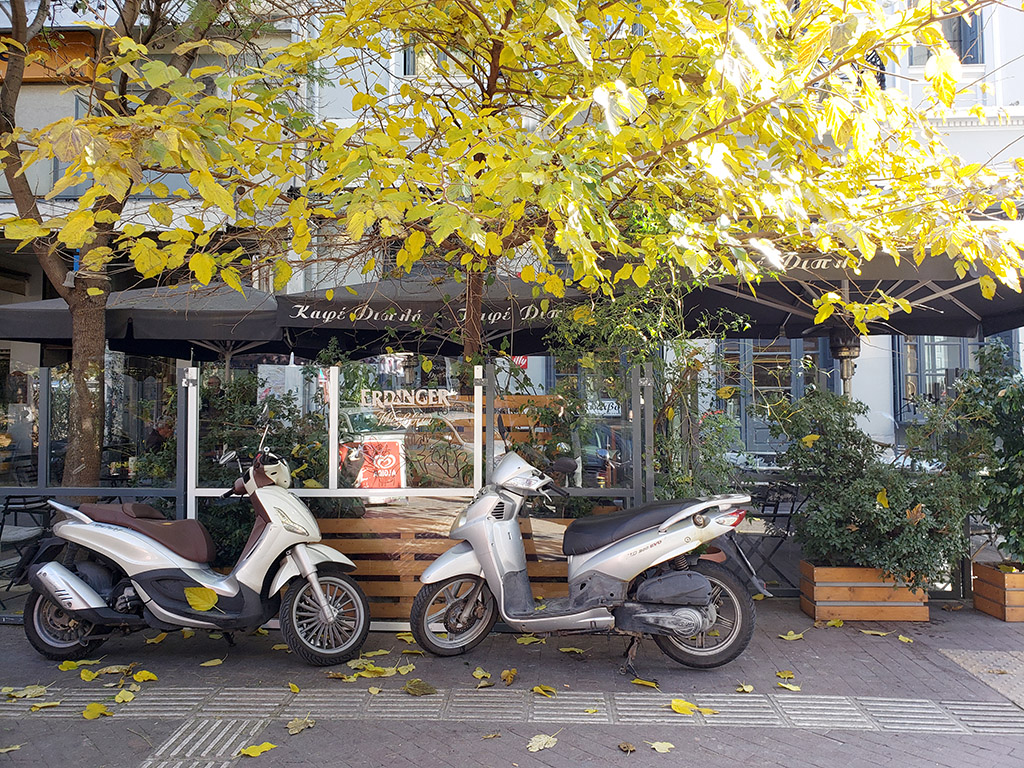 Directly across the street but feeling a world away from the square is the Diplo Café, where we had an early lunch. Diplo has a trendy and comfortable decor, with students studying in groups on their laptops and older regulars greeting each other and then sitting alone at separate tables to read newspapers and sip coffee. We shared a very nice chicken, ham, and cheese sandwich and a salad. I tried a Mythos beer, one of the local domestics that had eluded me to that point in our trip.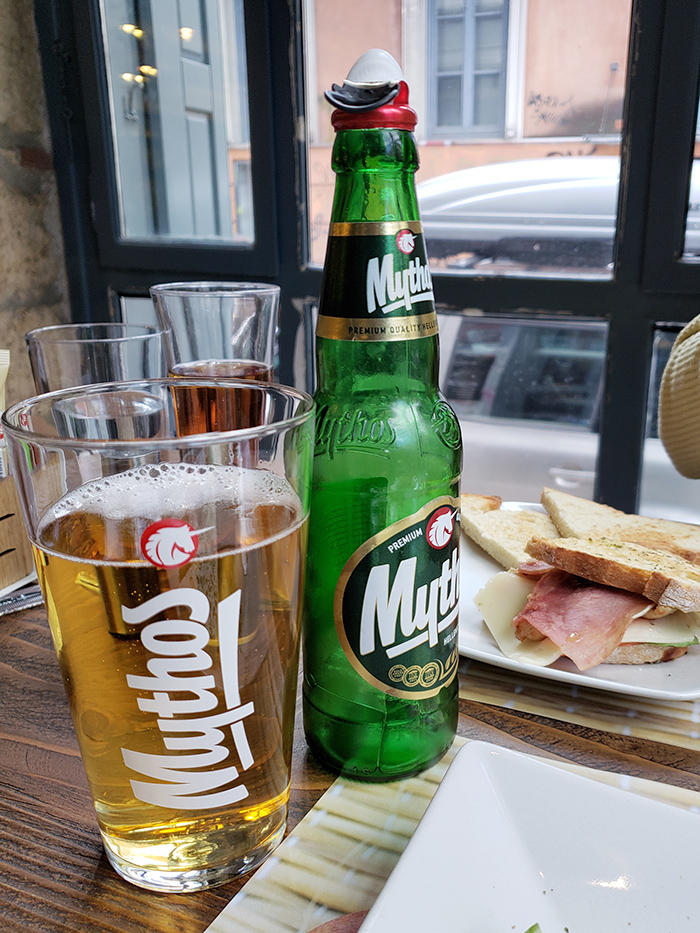 There are lots of interesting small businesses sprinkled around Exarchia.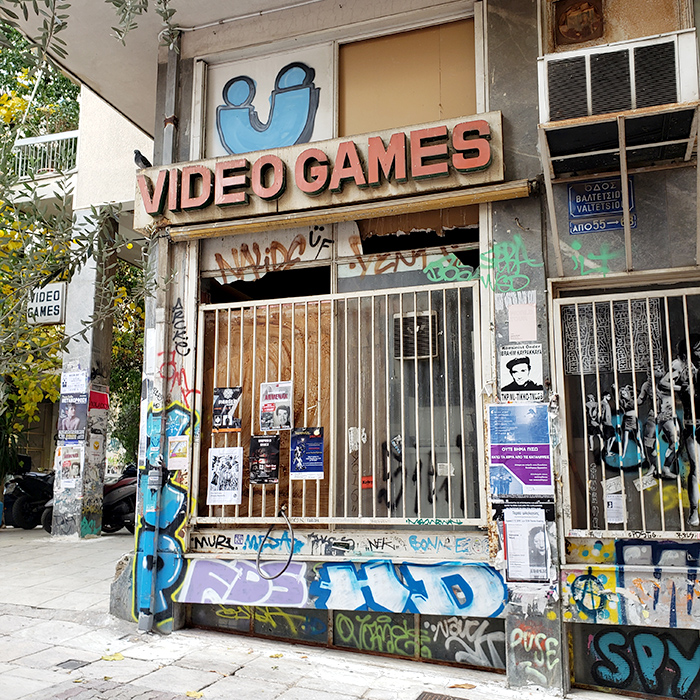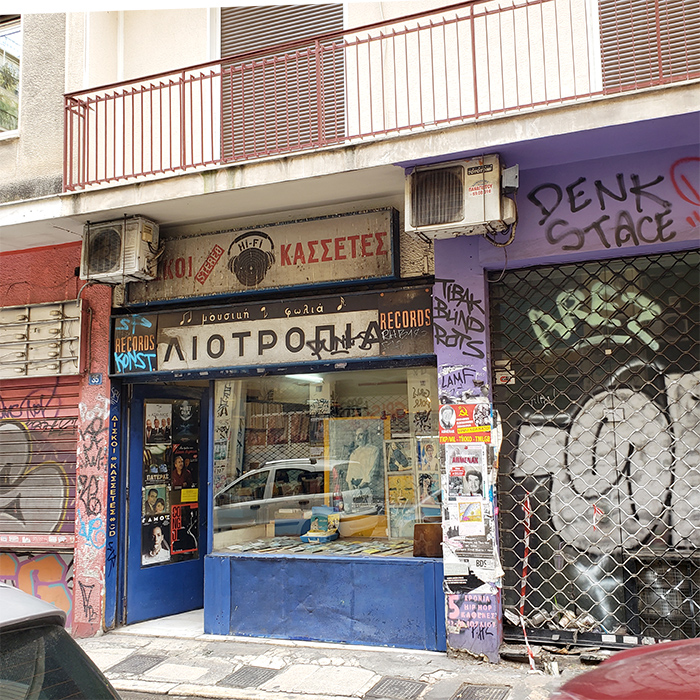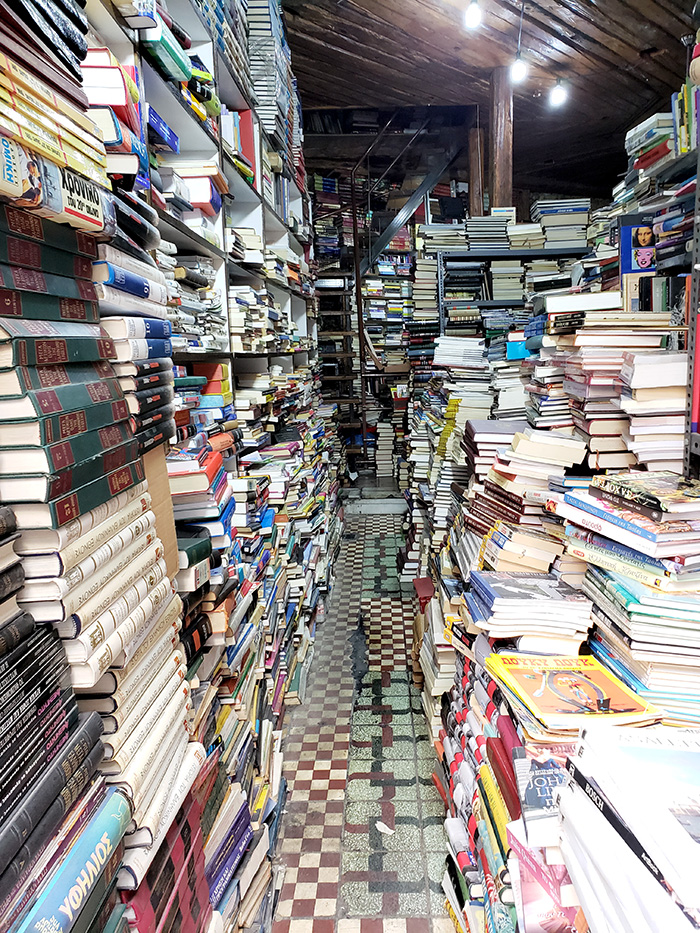 A few blocks east is Strefi Hill (Lofos Strefi), a steep and rocky hill that rises up somewhat unexpectedly from the streetscape. We made our way up, beginning with these stairs at the bottom, painted with the logo of Asteras Exarcheion 1928, a local soccer team with strong anarchist support.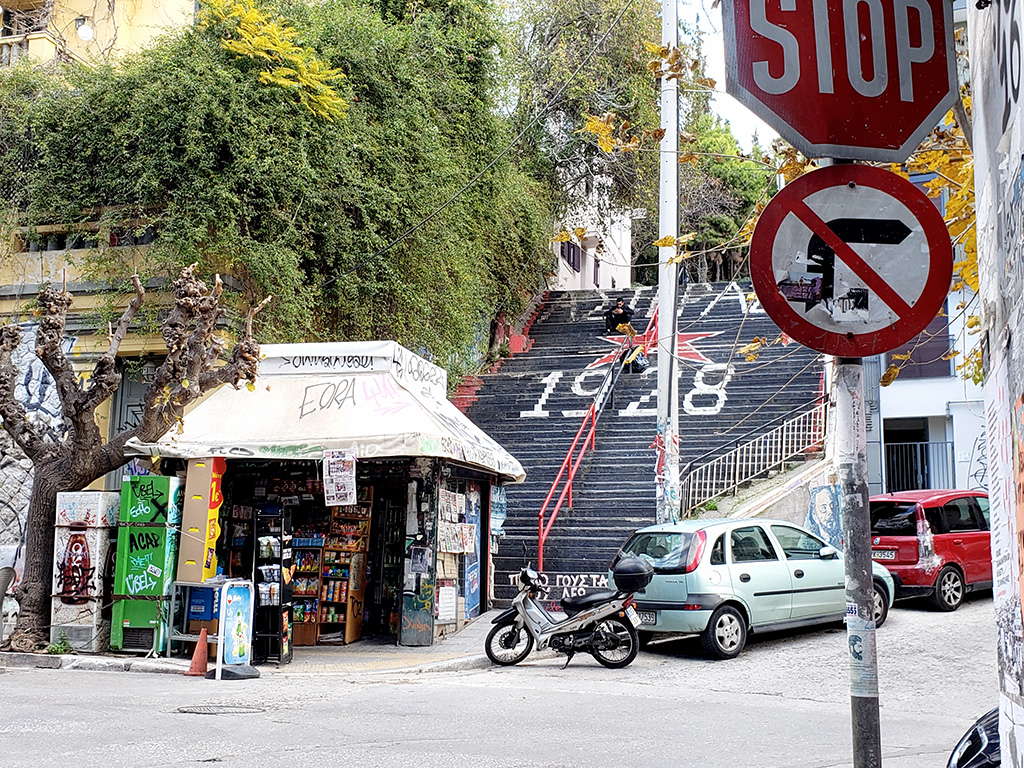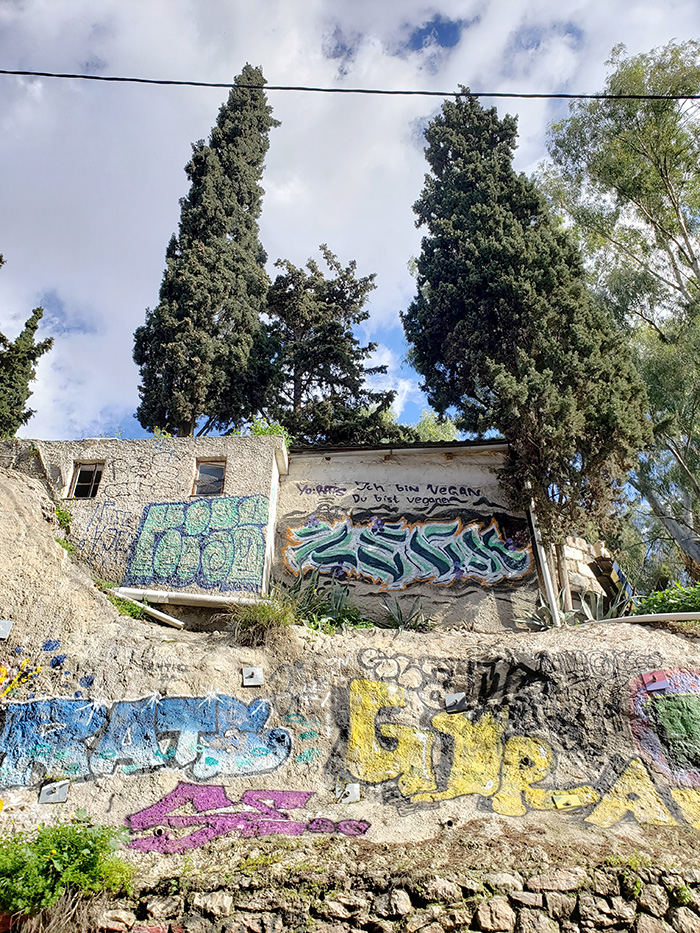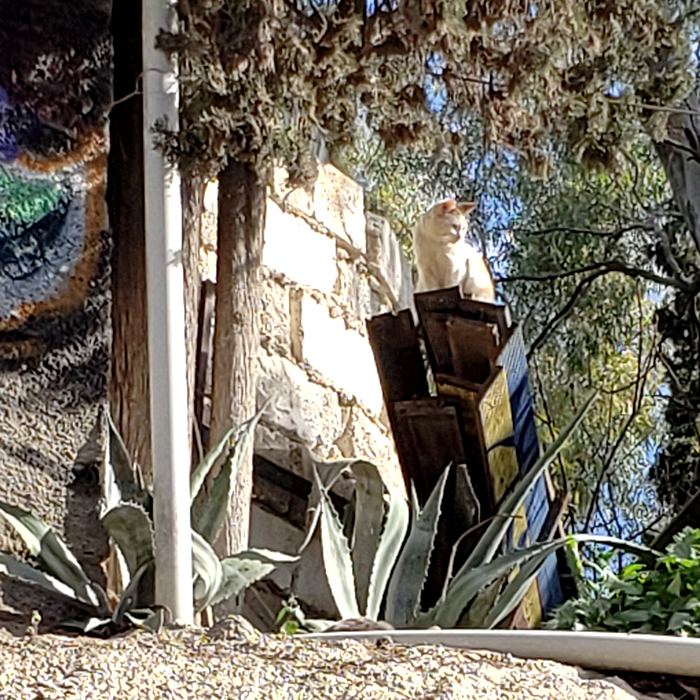 Then there were more stairs.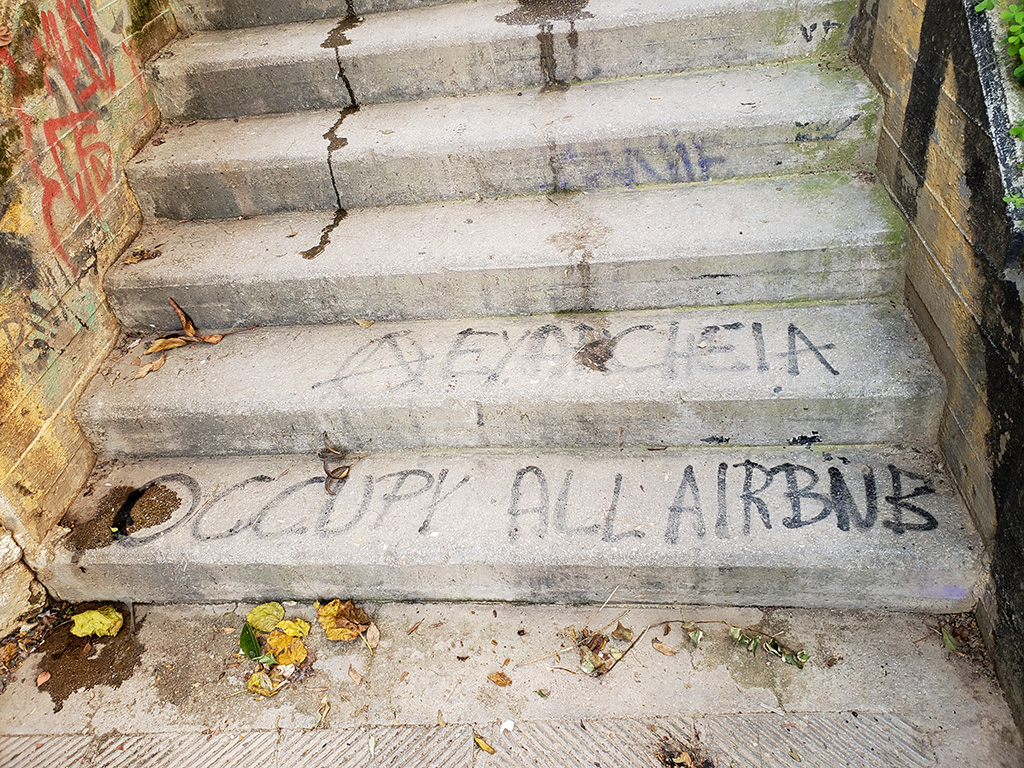 The stairs turned into a dirt path.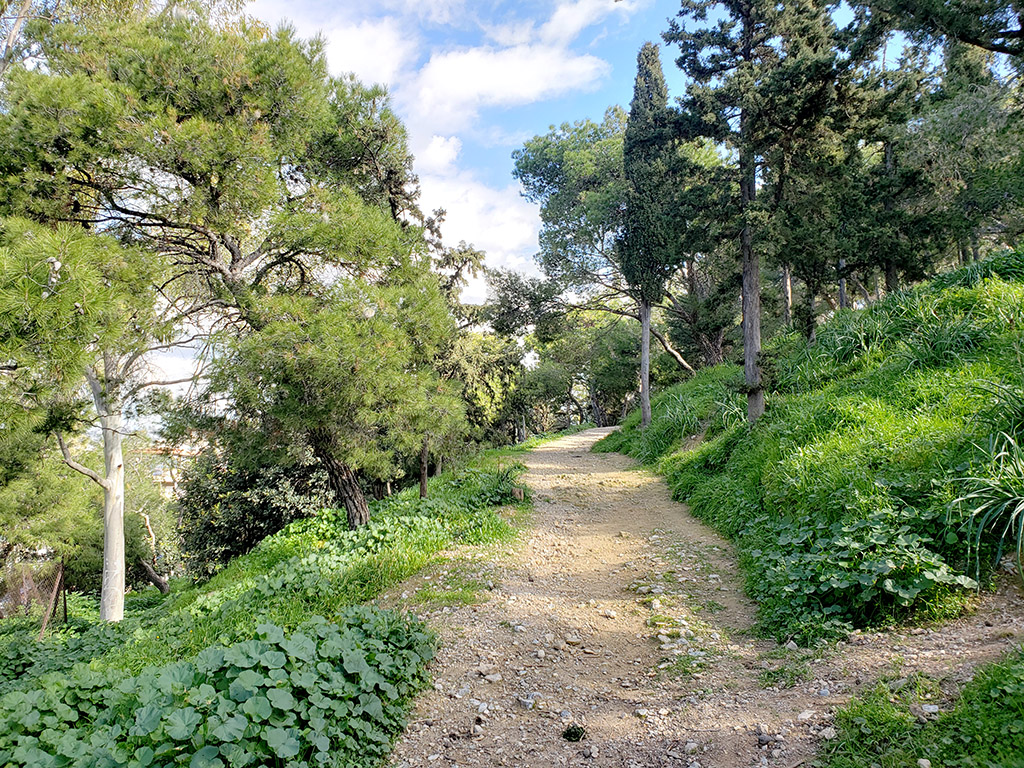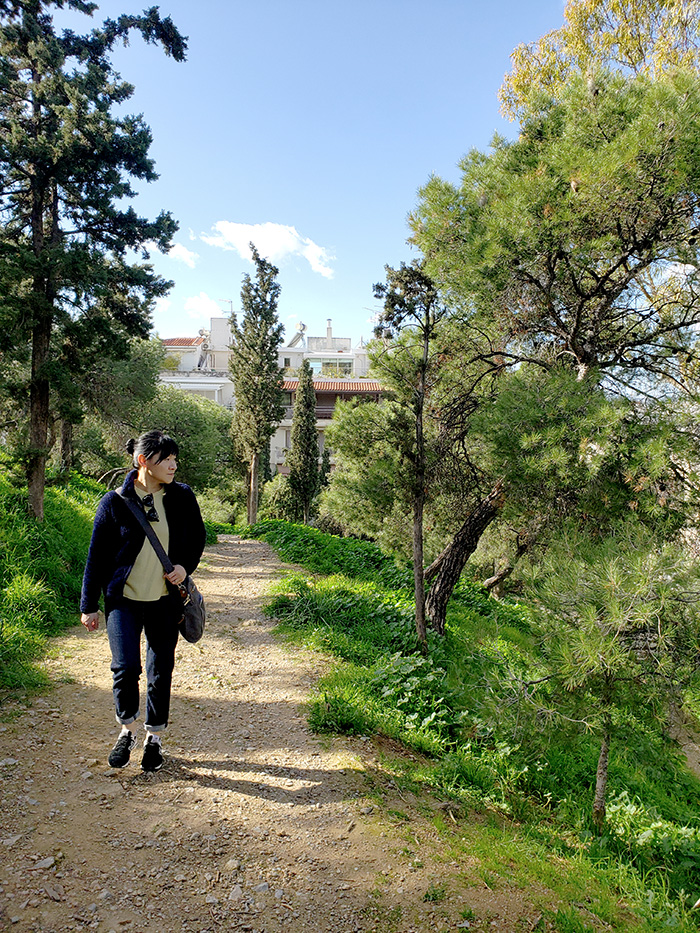 The dirt turned into a steep climb on slippery gravel for which we were ill-prepared.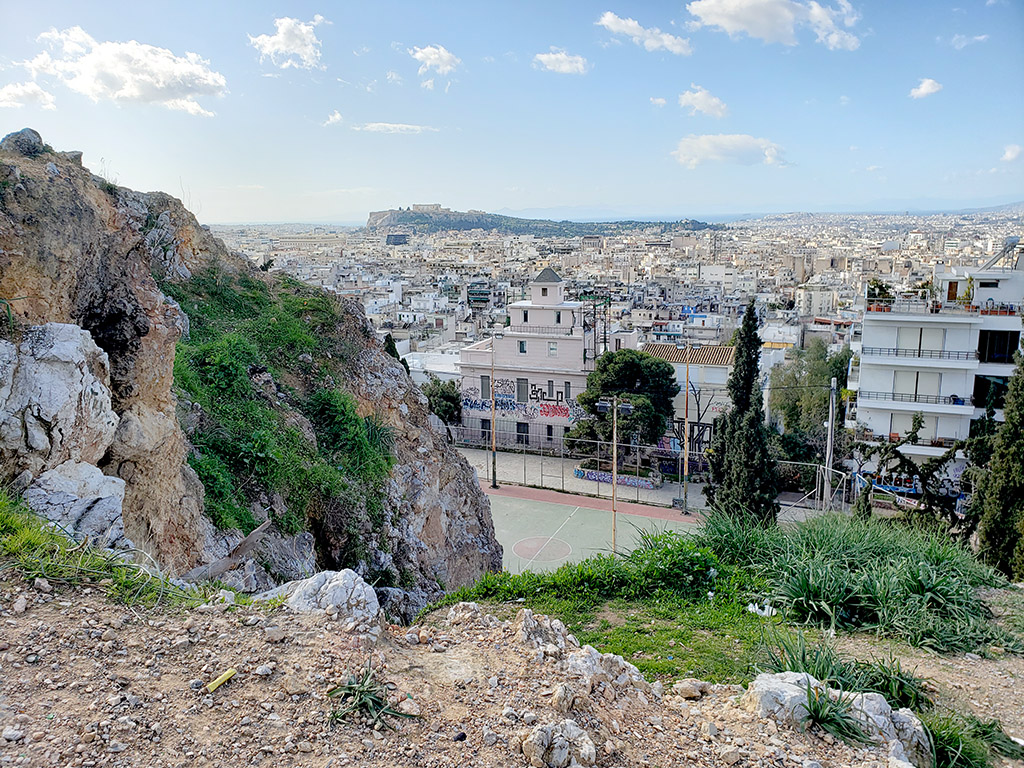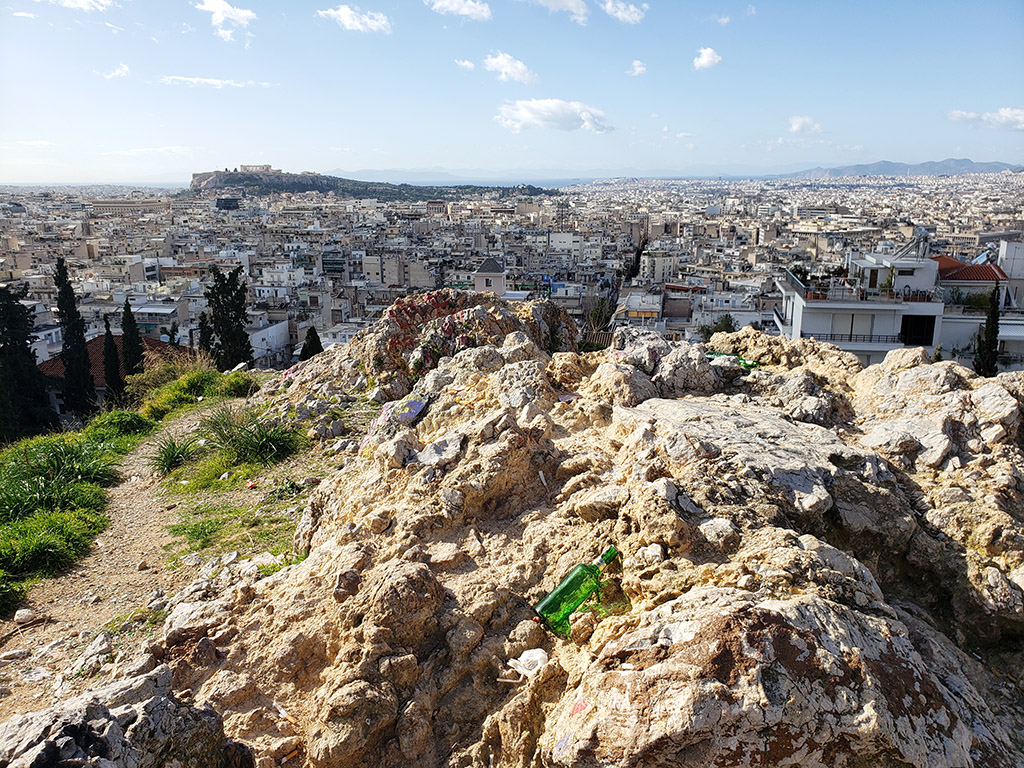 But the views from the top made it worthwhile. The exposed rock is a result of a quarry that operated there in the 1900s, but the history of the hill dates to the Ancient Greeks who called it Aghesmos.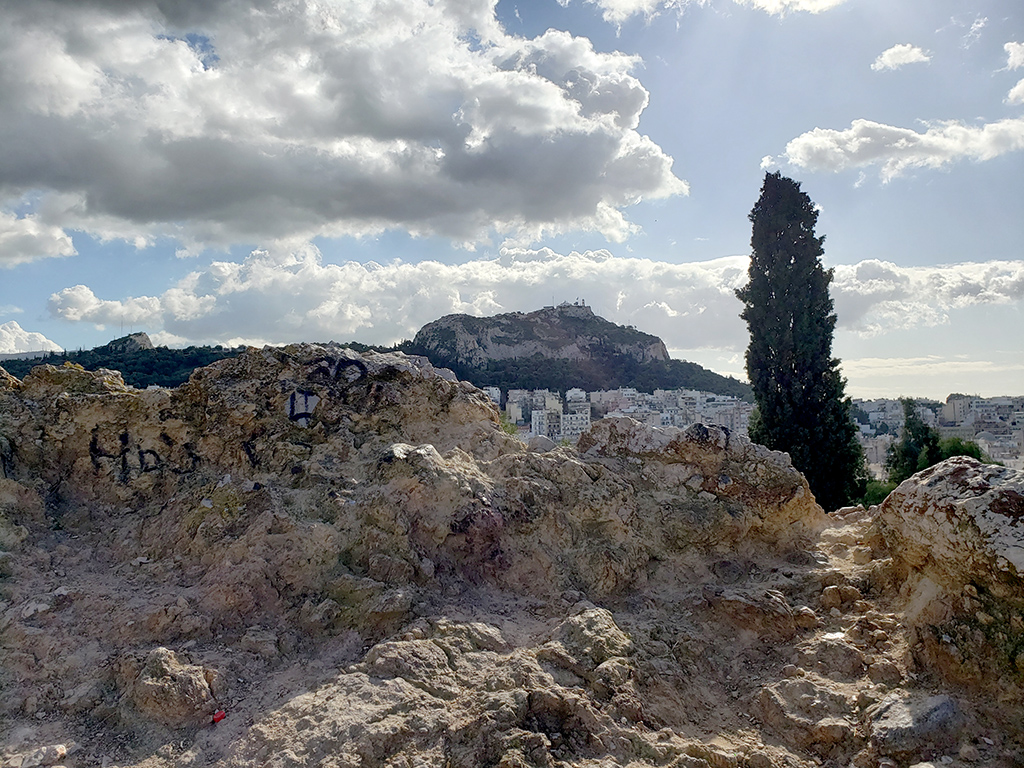 Looking down the far side of the hill, we could see some tents hidden in the trees.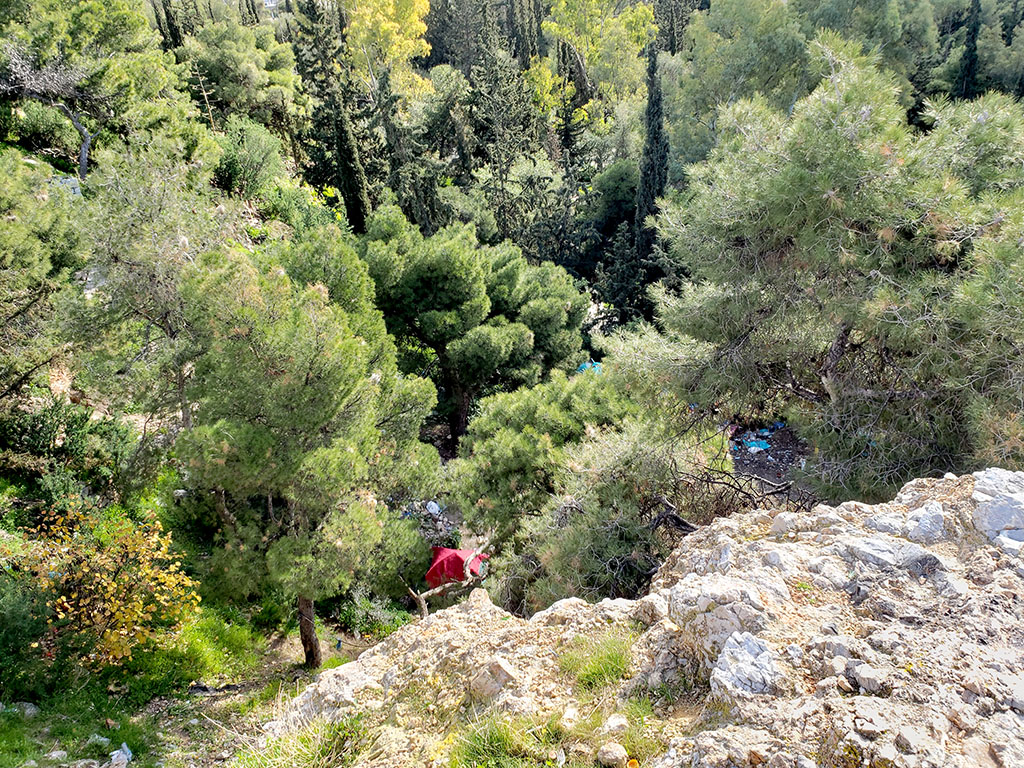 Back on flat ground, we found that Exarchia has some photogenic streets.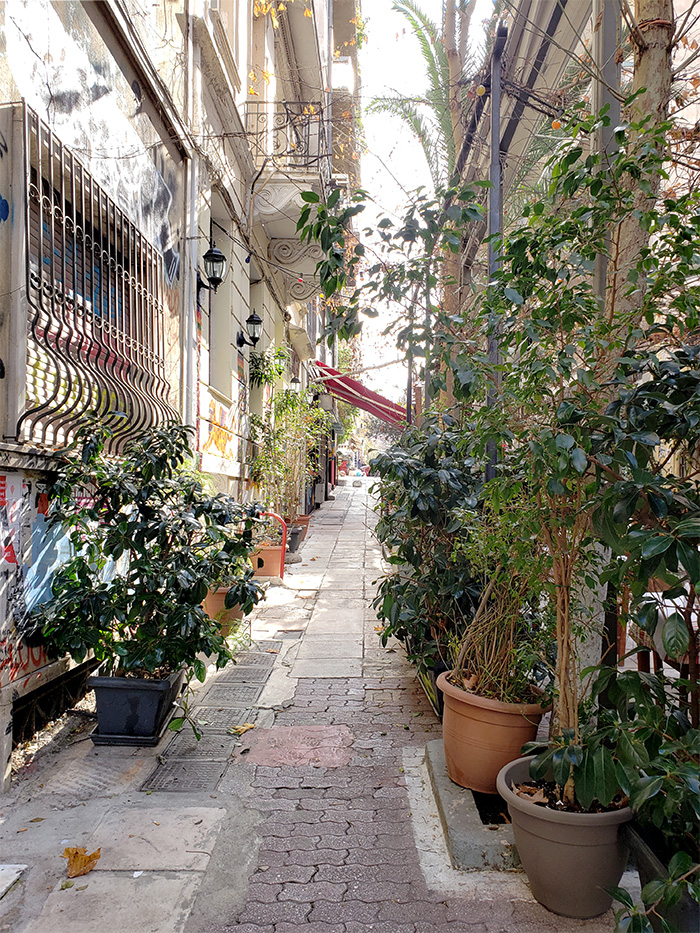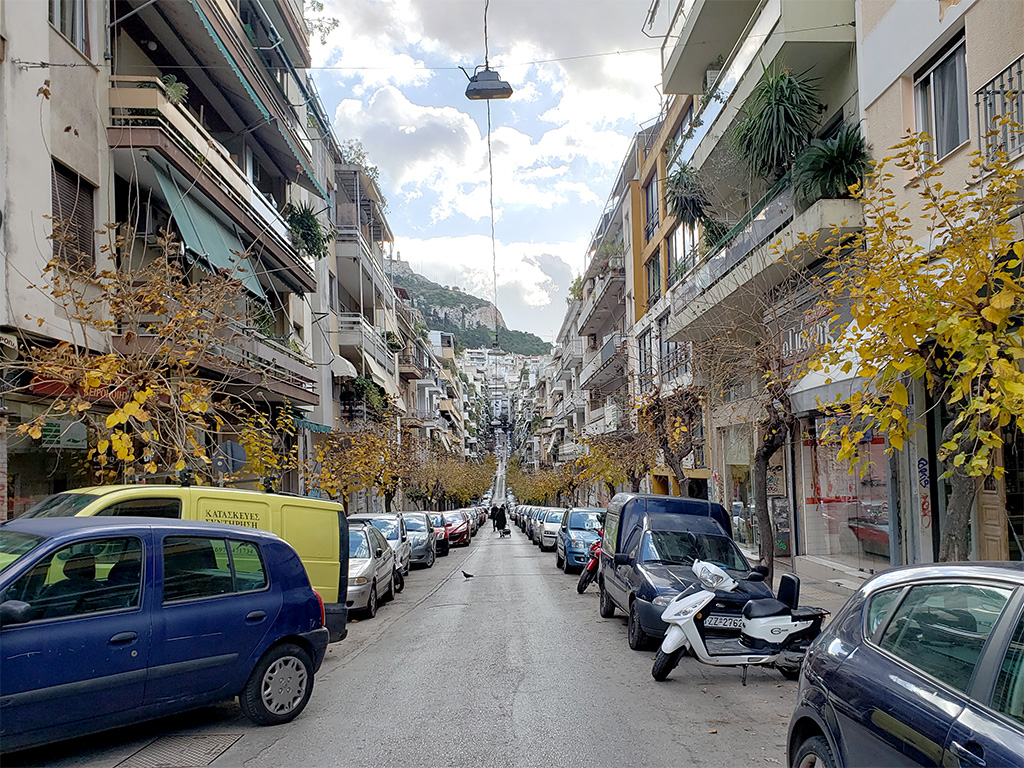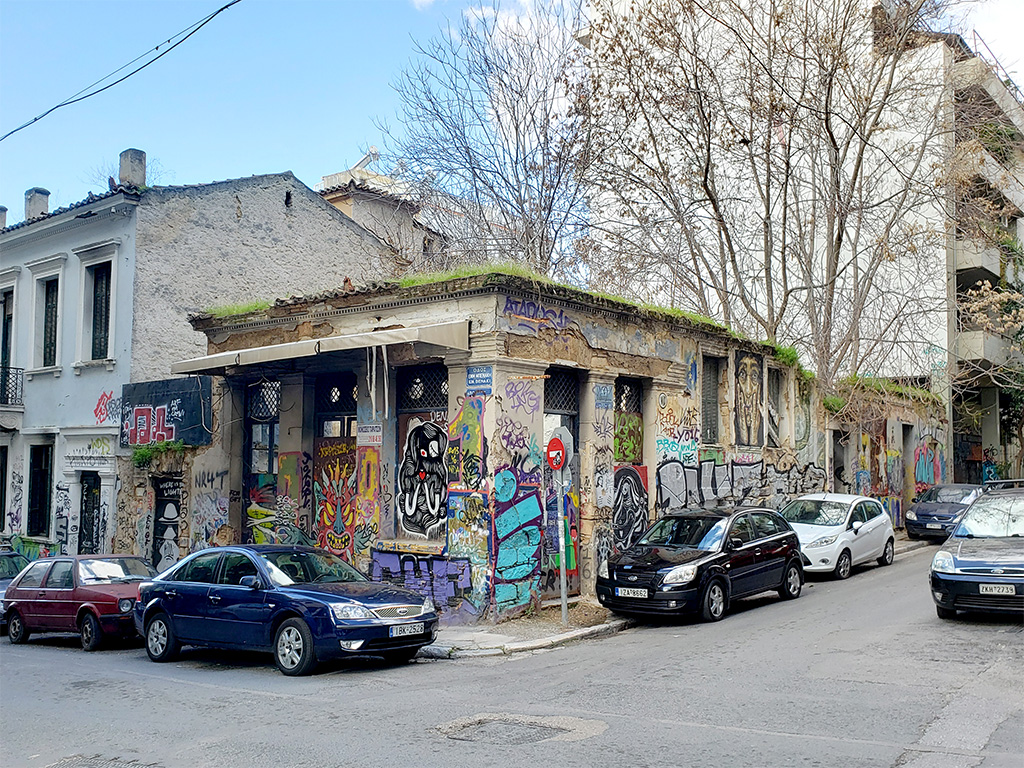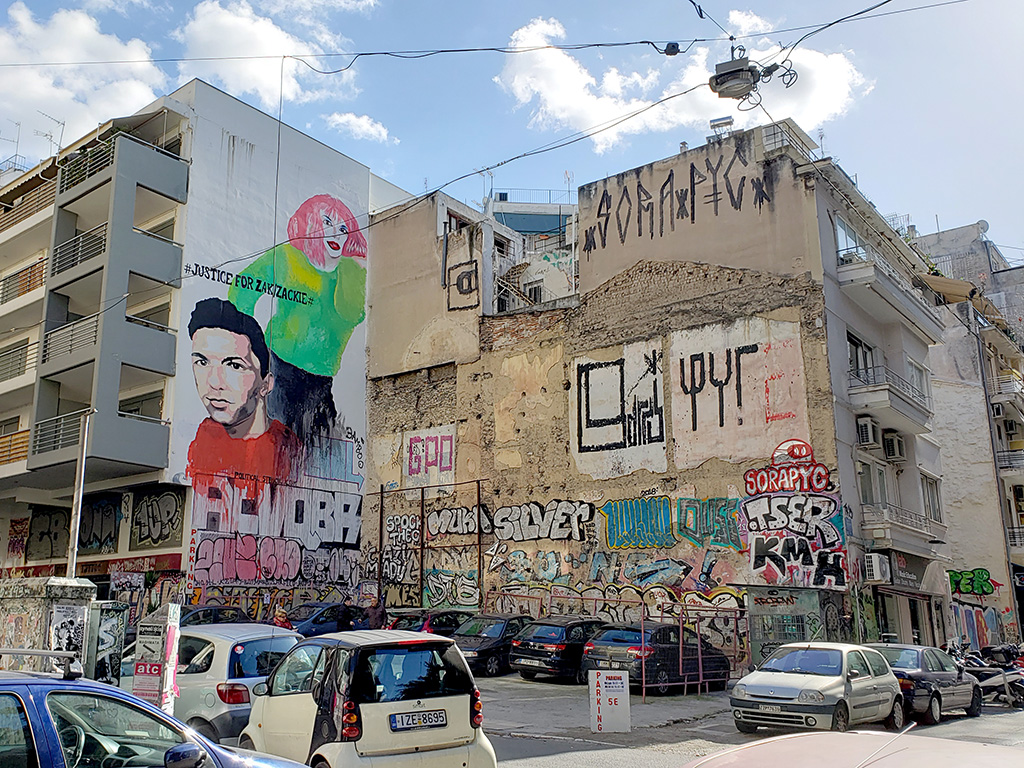 We saw this large mural in memory of Zak Kostopoulos, an LGBT activist who was beaten to death in Athens: he was initially attacked by a group of civilians and then, allegedly, beaten further by the police officers who arrived at the scene.
On the edge of Exarchia is Athens Polytechnic, a university still known for the Athens Polytechnic Uprising of 1973. Students occupied the university to protest the military dictatorship then in control of Greece. The government and police responded by driving a tank through the main gate of the university. Snipers atop buildings around the university then shot and killed up to 24 people. General anger at these events led to the eventual collapse of the military government and Greece's democratic elections resumed in 1974.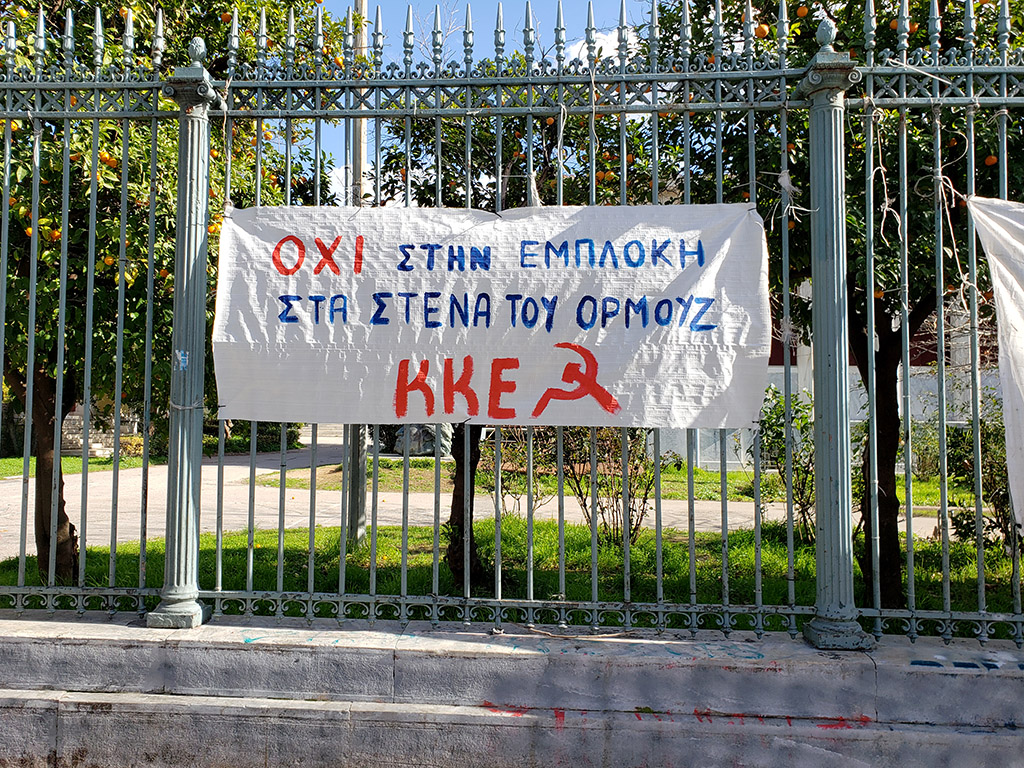 The gates and fences around Athens Polytechnic are draped with protest banners, most of which are in Greek, so their exact messages elude us.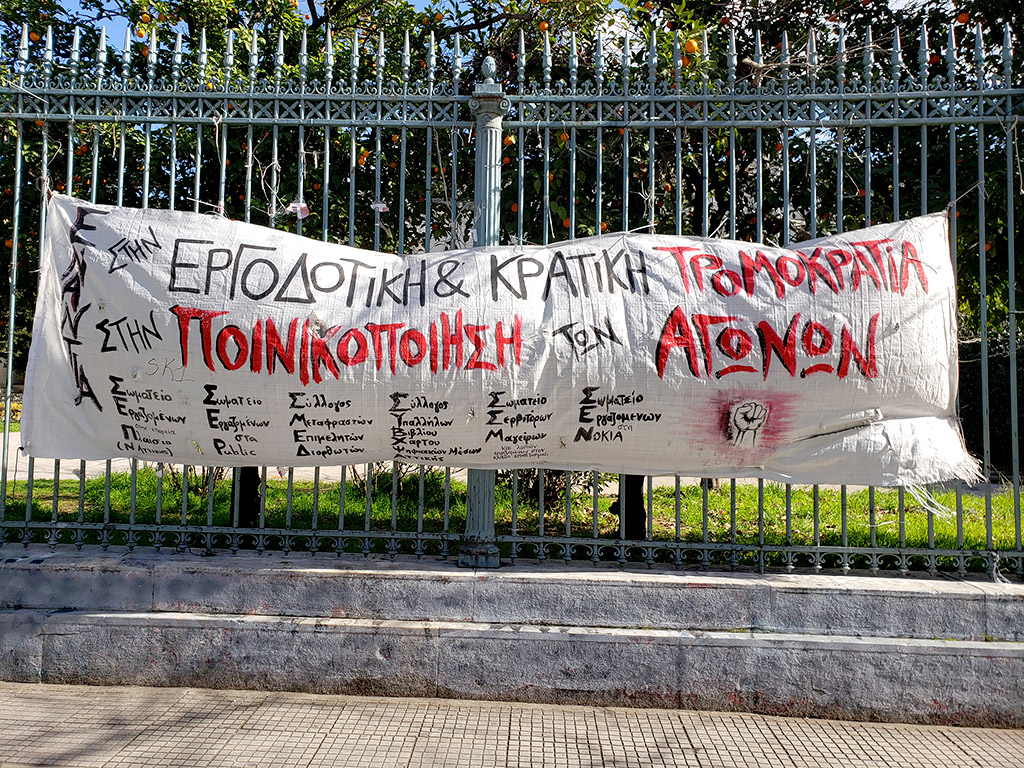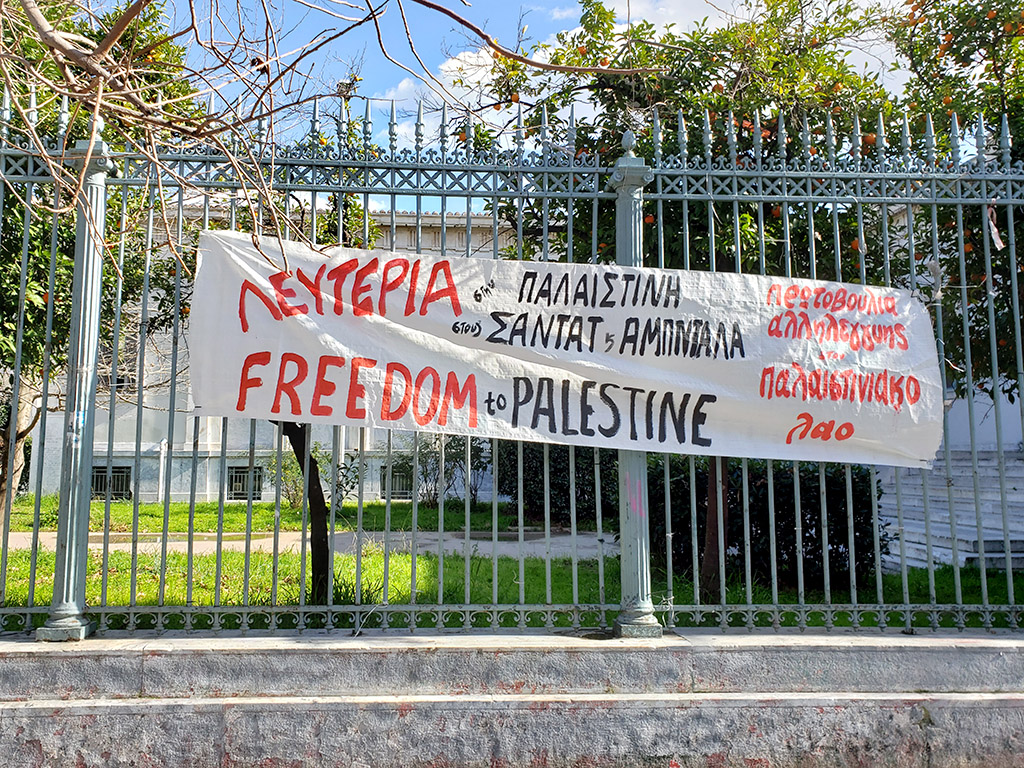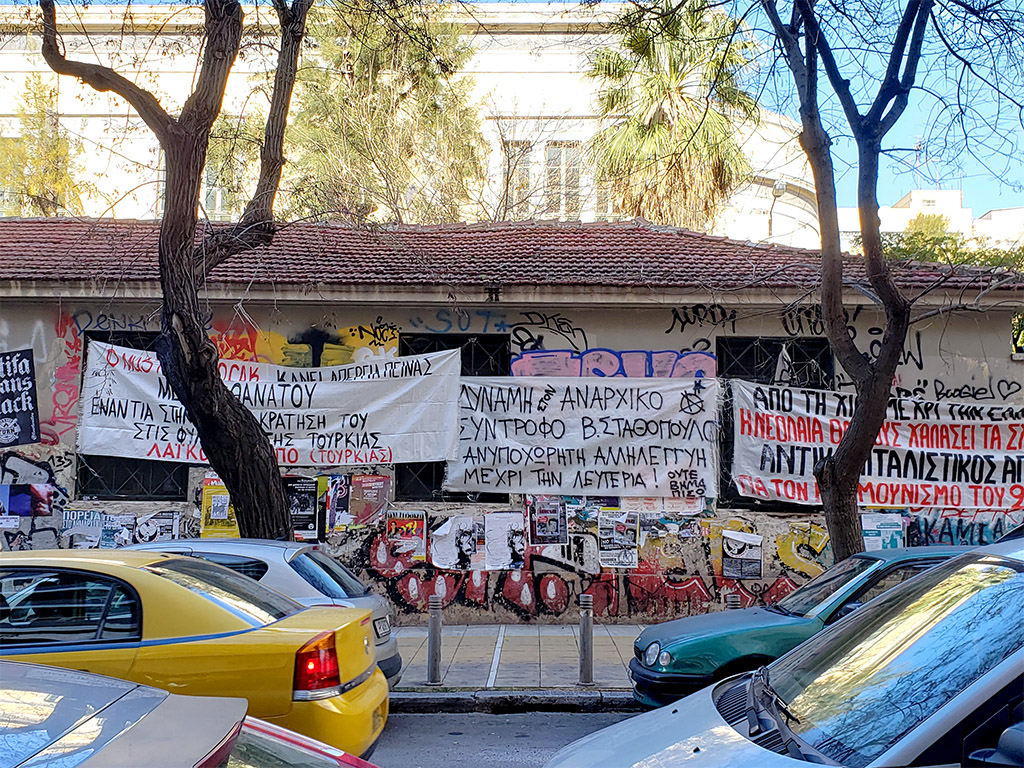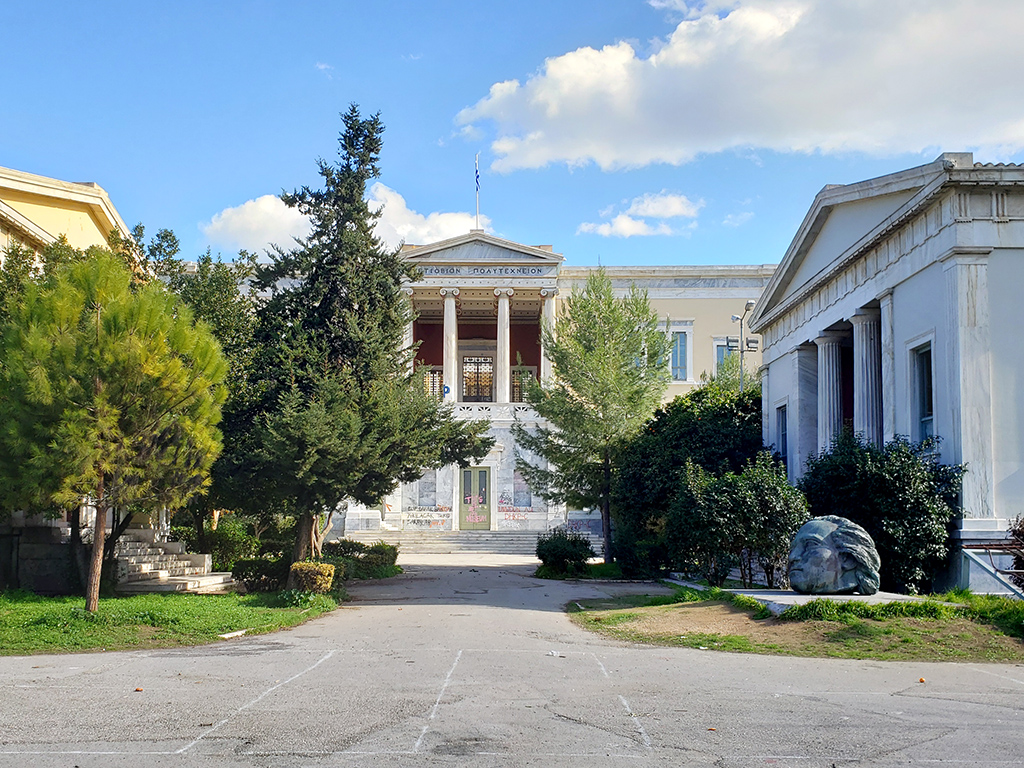 Next to the Polytechnic is the National Archaeological Museum of Greece. It houses one of the best collections of Greek antiquities in the world, with items found during excavations across Greece dating from prehistoric times to around 800 AD.