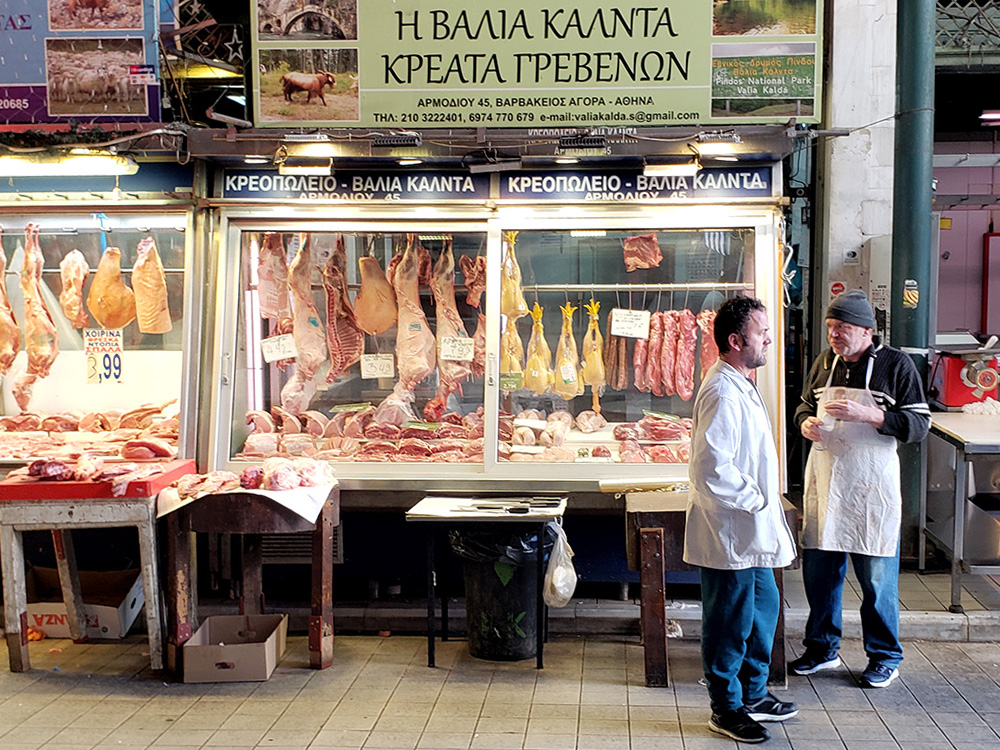 Varvakios Market, also known as the Athens Central Market, is located on Athinas Street between Monastiraki Square and Omonia Square. The main market building houses the butchers and fishmongers, but the market's influence spreads into the surrounding streets where there are fruit and veggie stalls, dry goods vendors, and small specialty shops of many kinds.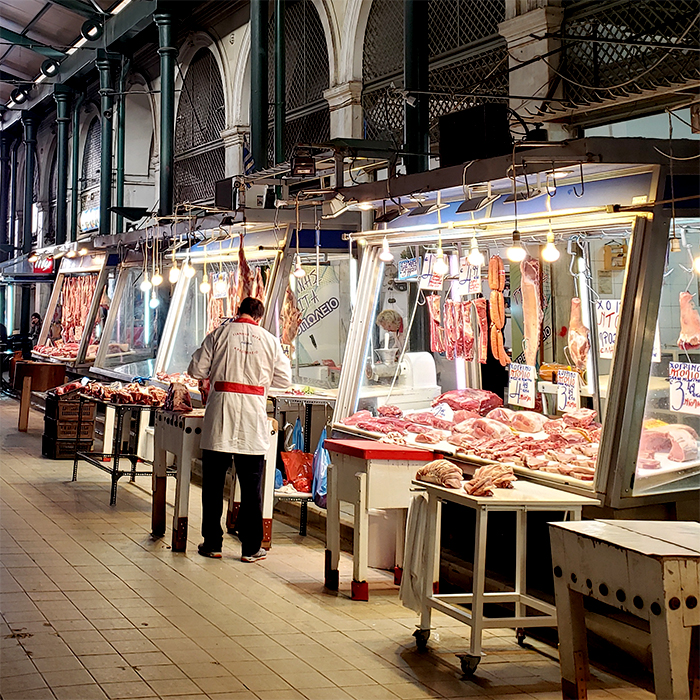 The main market building was built in 1886. It's still in the same spot, though modernizations were completed about a decade ago to bring things up to EU standards. Even so, the market still has a raw and functional feel that those we've visited in Canada, New York, Portugal and Spain lack.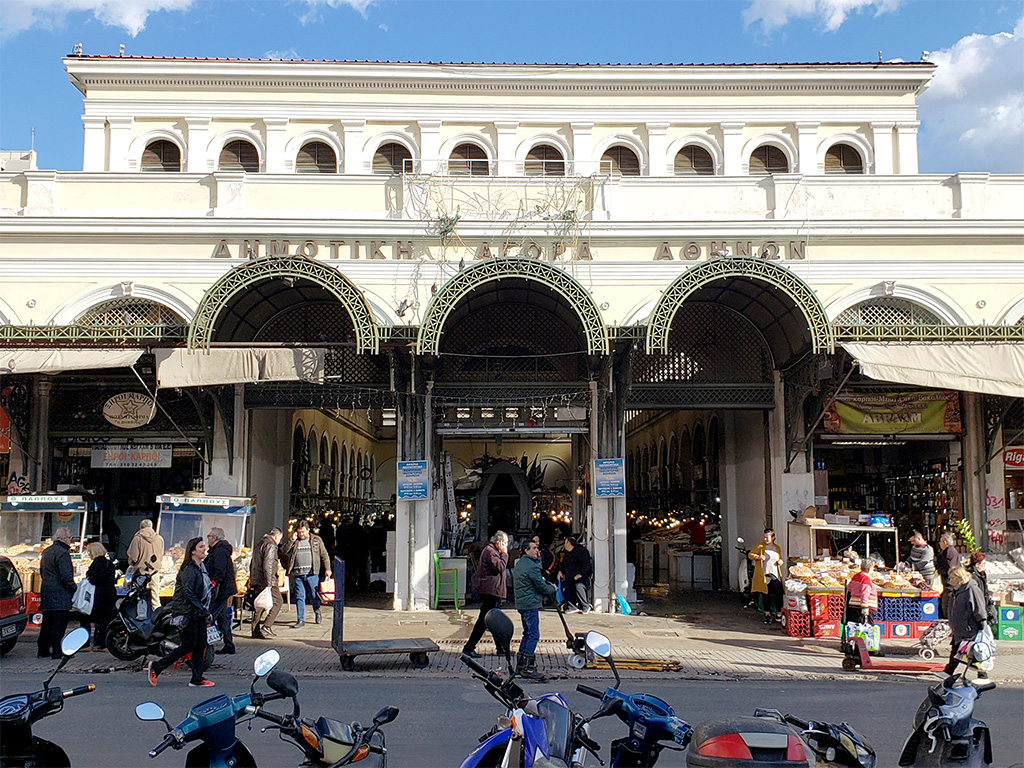 We passed through the butcher areas a few times during our time in Athens, usually when it wasn't very busy. The butchers would alternate between vigorously chopping animal parts on giant blocks and optimistically trying to sell us on their offerings. Sorry… looks fresh but the goat heads won't fit in my suitcase.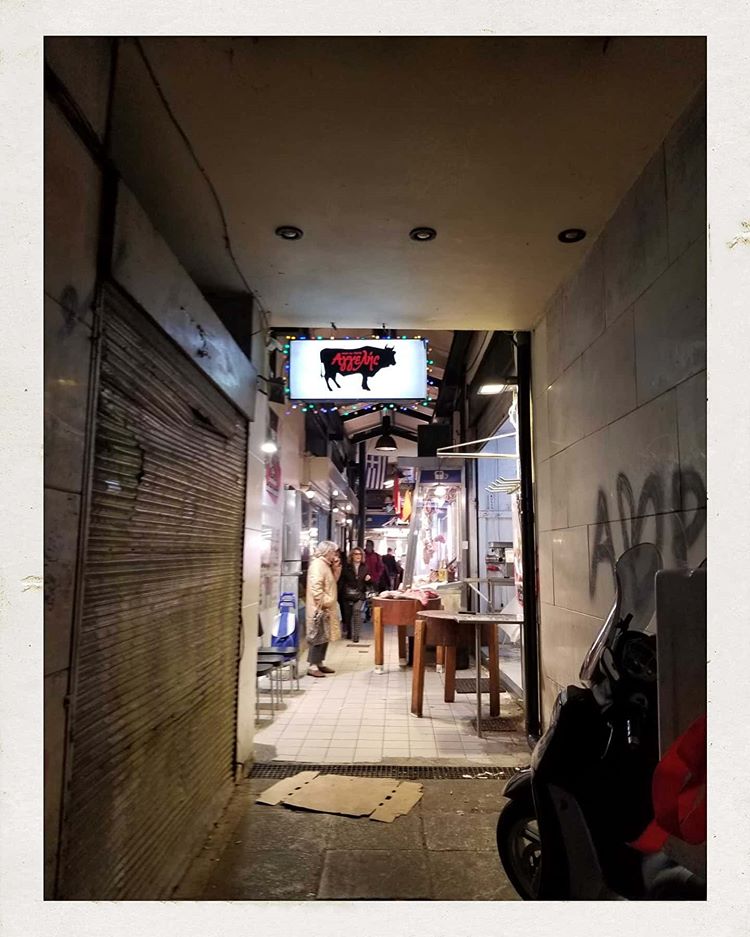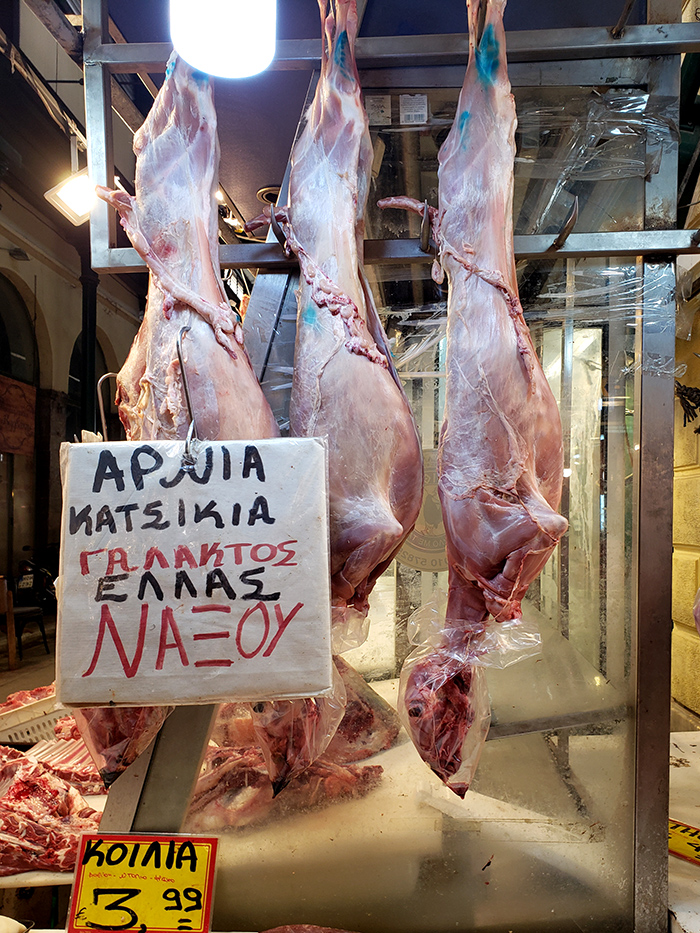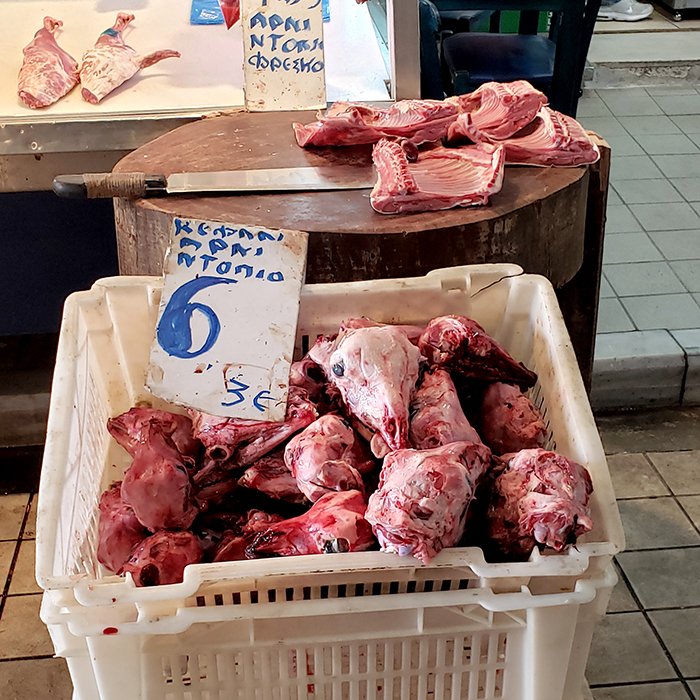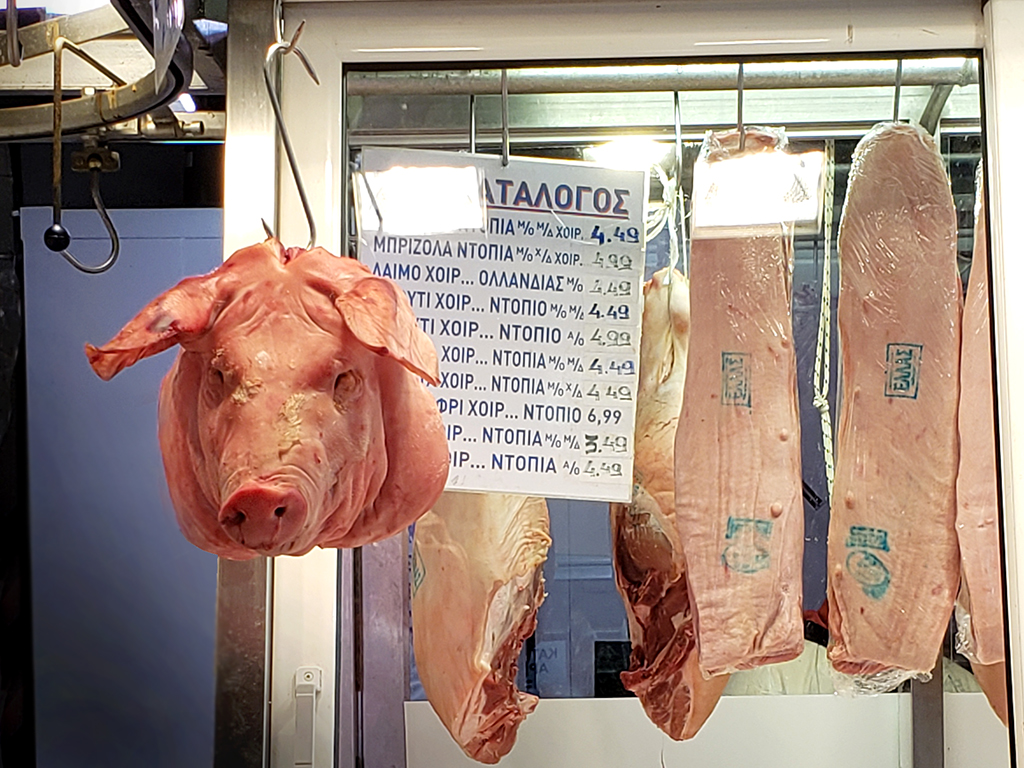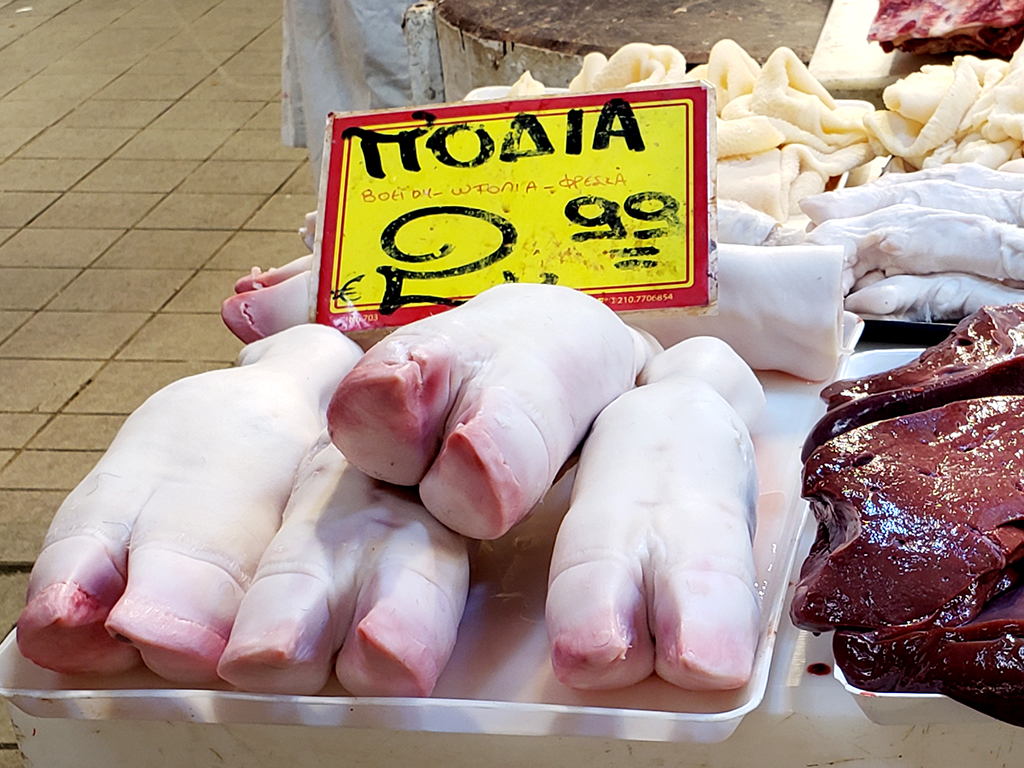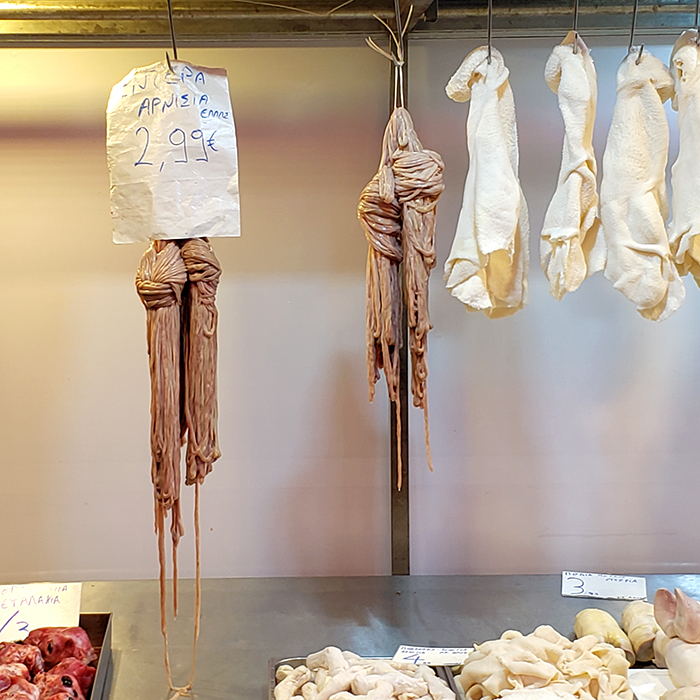 Near the butchers are the fishmongers. The aisles in this area are much narrower and the floor is sluiced with half an inch of fishwater (a word I just created). I happened to be wearing my water-resistant boots that day so I went in solo to take some photos. Josie, in thin running shoes, decided to wait outside. Good call.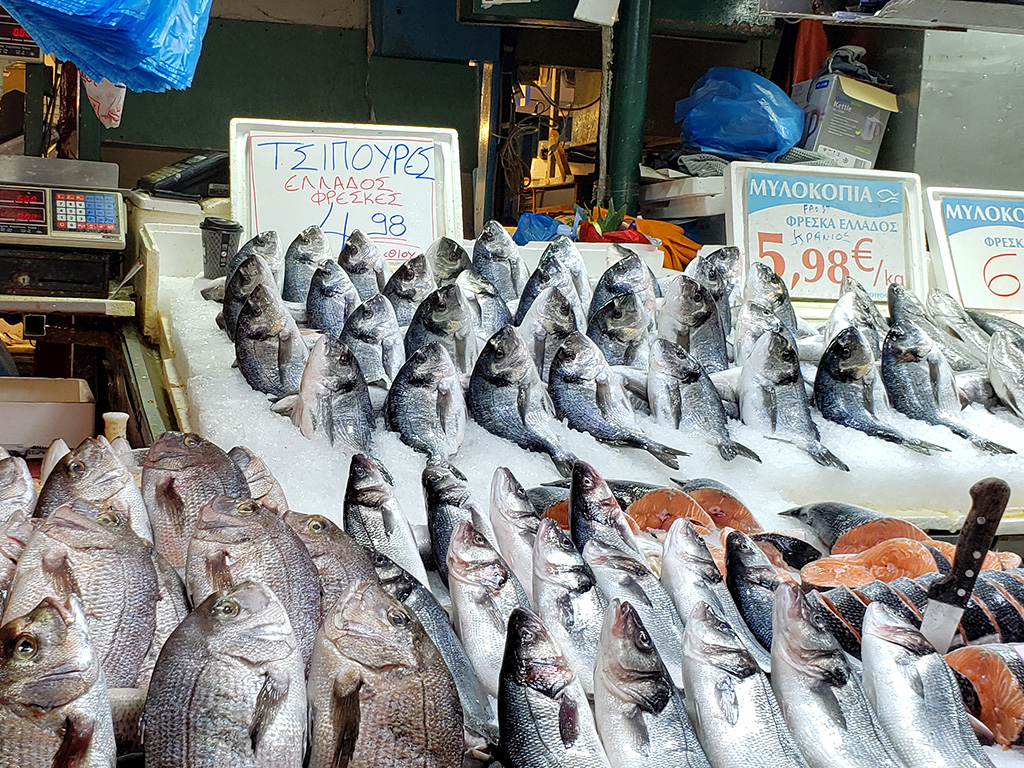 There was fish and seafood of every variety, but the signage was all in Greek and I'm useless at telling fish apart. One thing that did impress me was the cleanliness and almost total lack of expected "fishy" odours.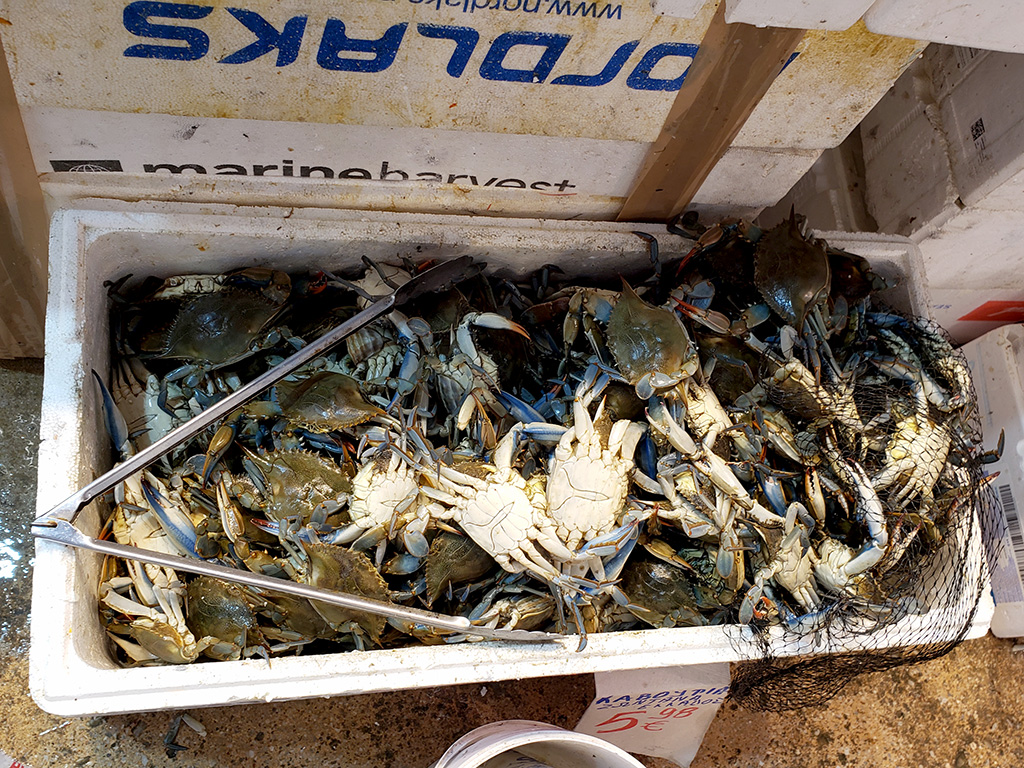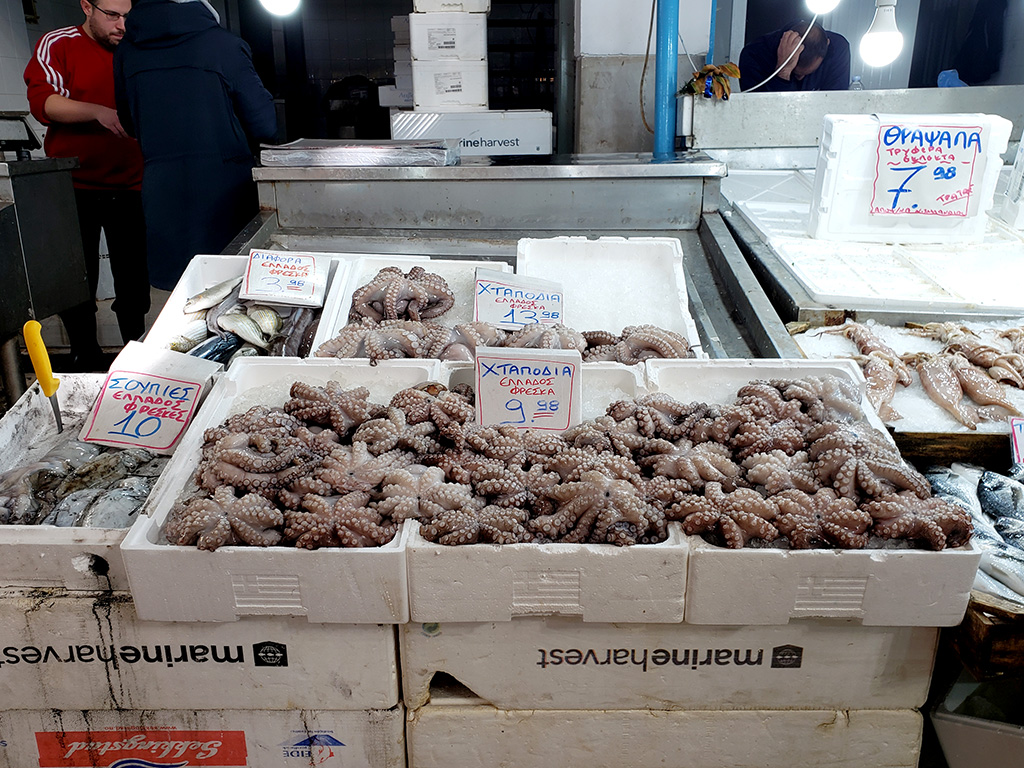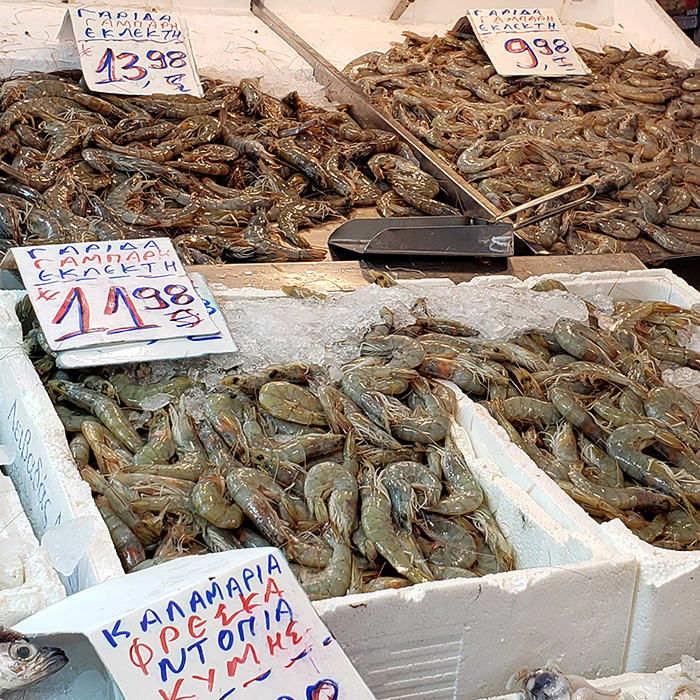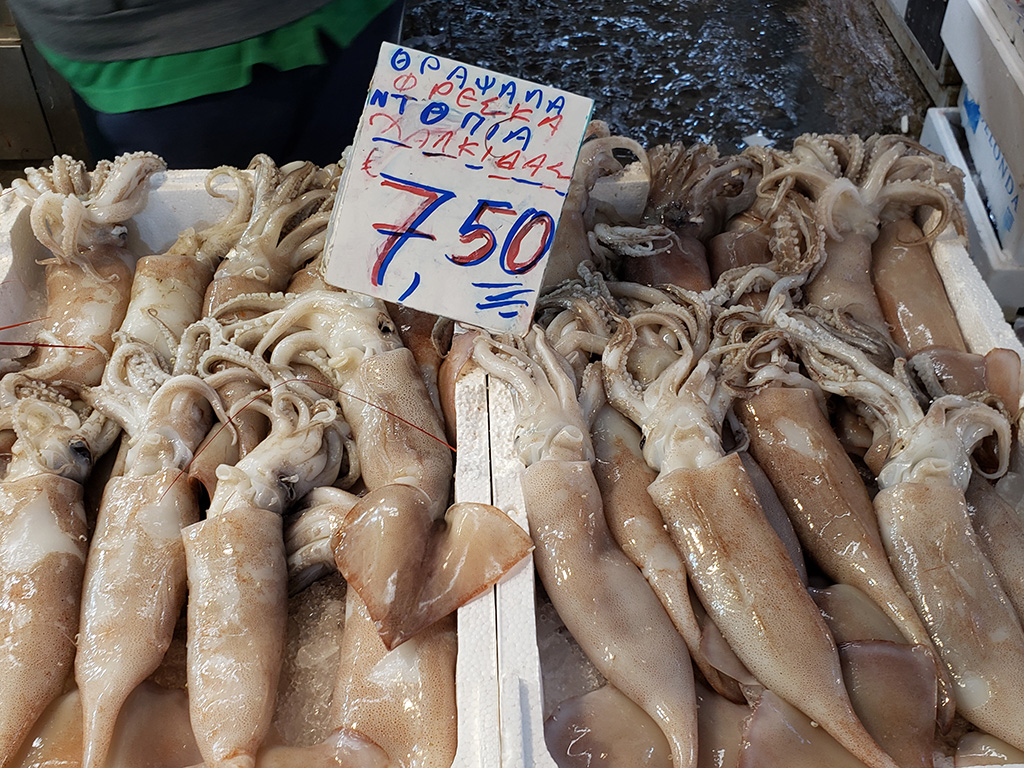 Inside and around the main market there are numerous restaurants. One of the oldest and most well-known is Epirus Tavern, in a corner separated from the raw meaty chaos by large sliding doors on two sides.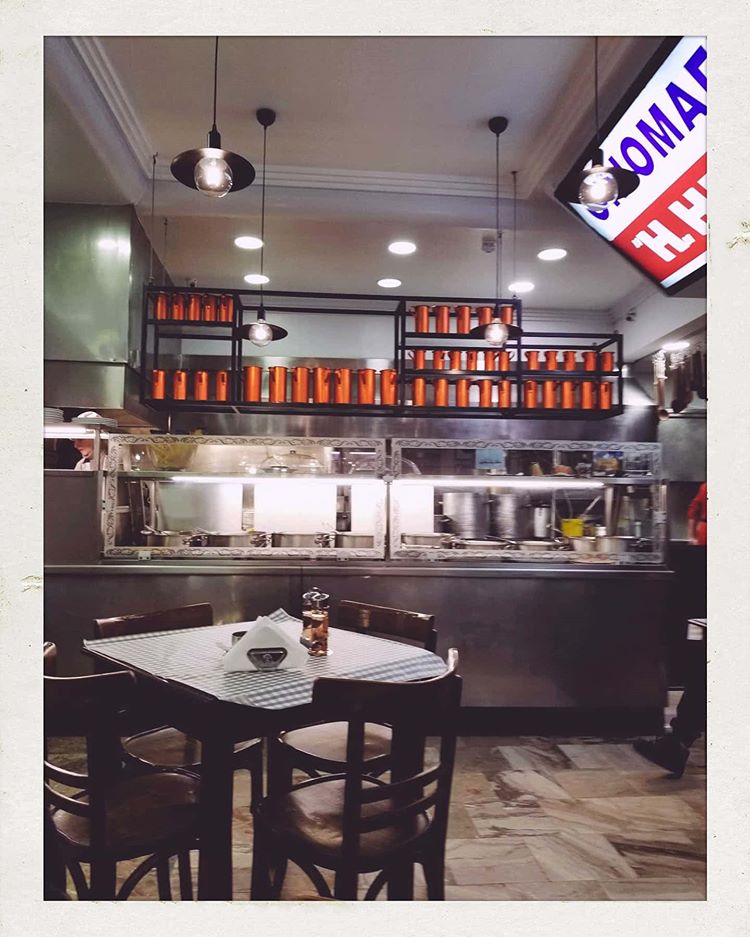 There is no written menu at Epirus, either on paper nor on the wall. Instead a man welcomed us as we entered, beckoned us over to the food case at the front, and pointed out each dish and explained what it was. There were numerous stews, soups, salads, fishes and meats in vats and trays.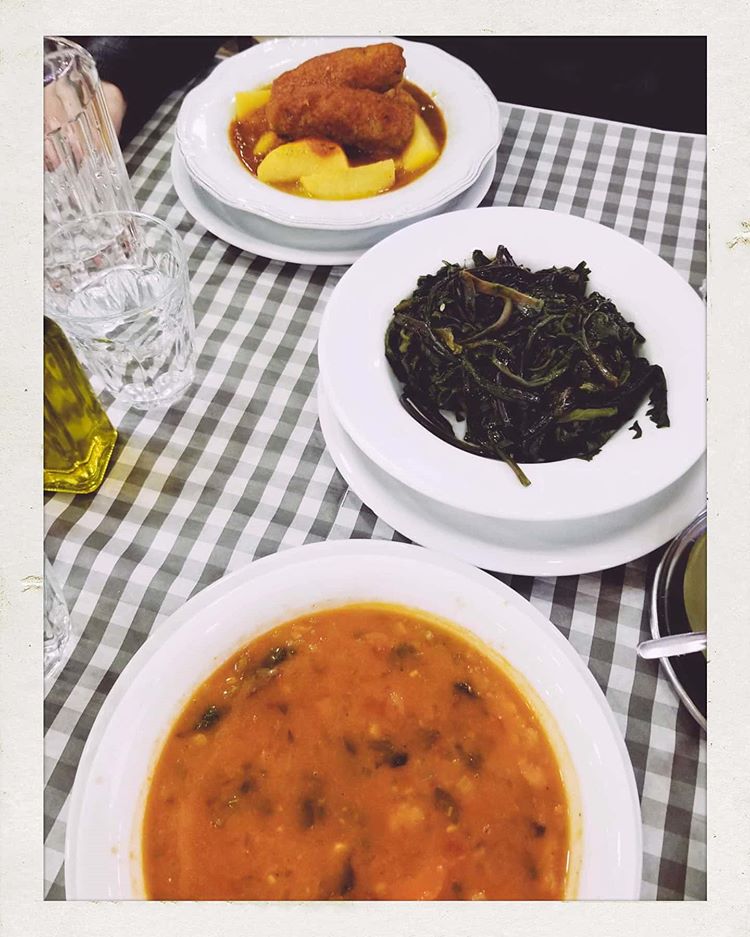 We chickened out on their most famous specialty (tripe soup, of course) and played it safer with a bean soup, stewed green veggies, and meatballs with potatoes. They also offered us very good bread. All of it was delicious.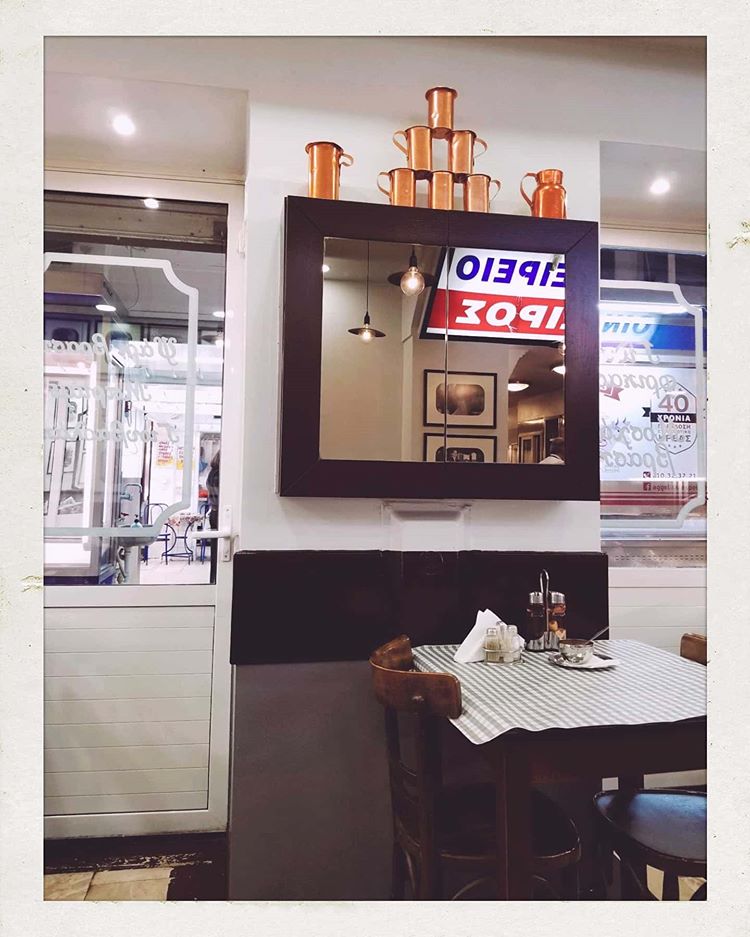 Most of the other customers at the time were solo older men, seemingly on breaks from work. We were far from the first tourists to pass through, however, as evidenced by their proud wall of celebrity visitors: Anthony Bourdain, Andrew Zimmern and Jamie Oliver are three faces we immediately recognized. The place had clearly been renovated recently but it still had charm, and the cool old sign.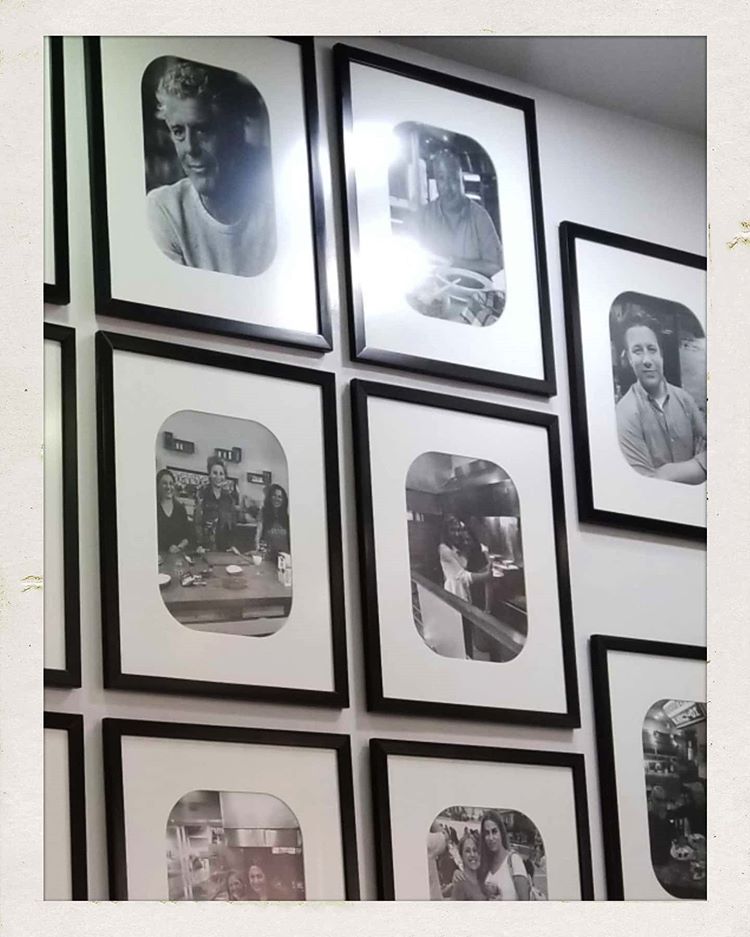 Across the street from the main market we found the fruit and vegetable vendors.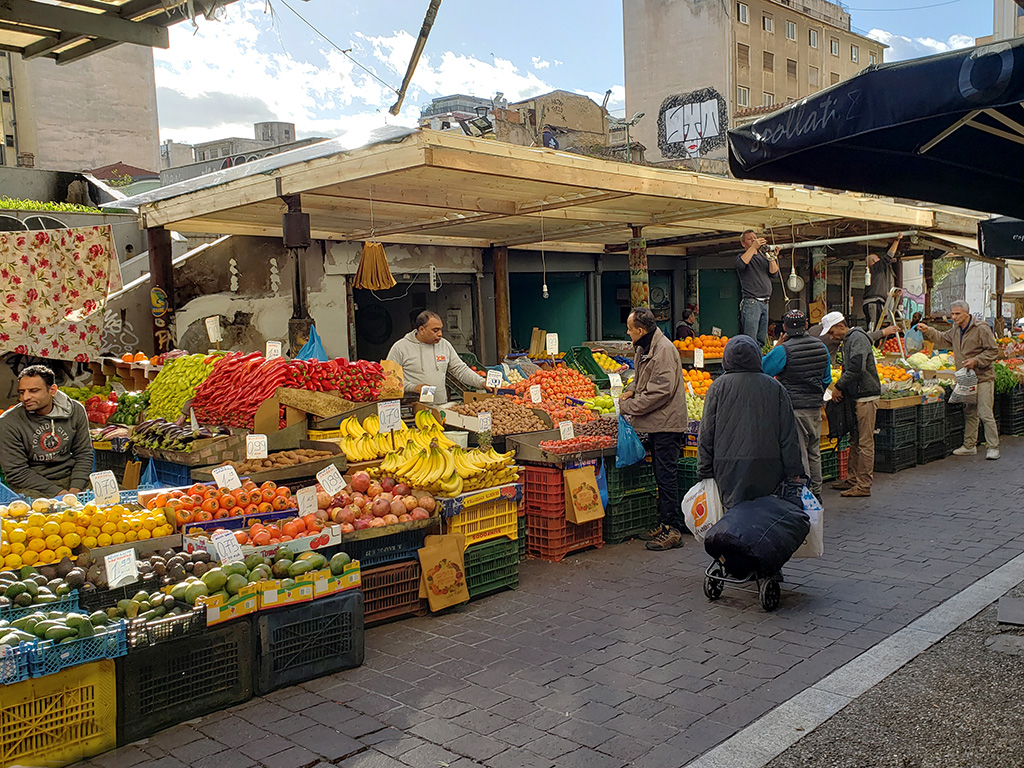 Along Athinas Street, and on adjoining smaller streets, there are many specialty shops. Those closest to the main market seemed to focus on specific food niches: dried goods, spices, olive oils, etc.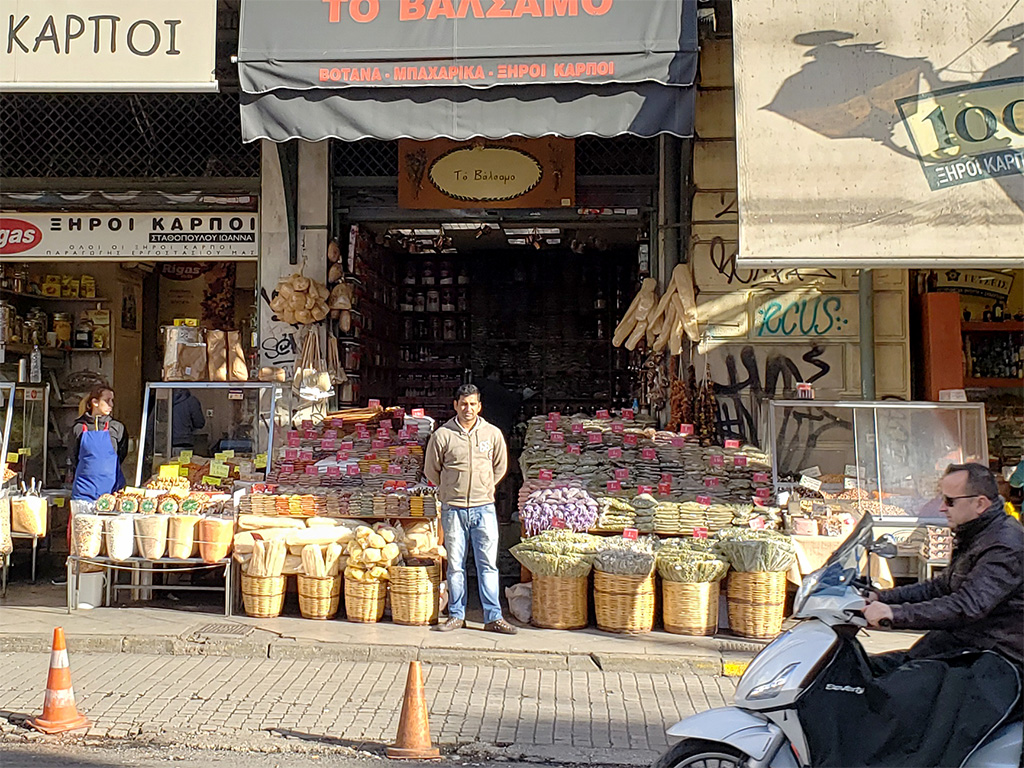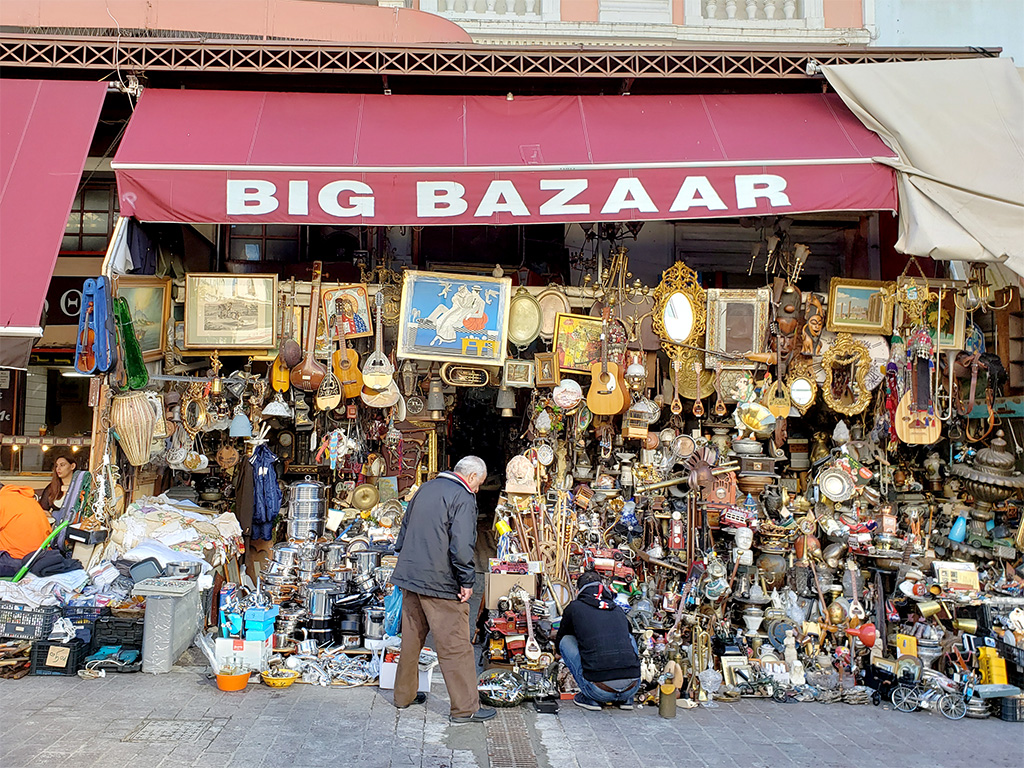 As we moved further away there were antique shops, hardware stores, shoemakers, and other specialty businesses, many that have apparently been open for generations. No doubt these vendors are experts in their fields. In general Athens doesn't have many big chain stores outside of a single concentrated shopping district. We saw a total of one Starbucks and it was mostly empty.